Shopping Guides & Articles
Retail Apocalypse is About to Hit U.S.—Is Your Favorite Store on the List?
US have been over saturated with stores with hot fashion, but the start of 2017 came with the news of store closure and that is descending America. Most of Retailers are bracing that fashion-industry is heading towards the shutdown of stores with glut of store space. The foremost reason behind the closing of more than 3,500 stores across the US is: People are driving more towards online shopping. The foot traffic to malls declined big-time and consumers have changed their spending habits and now instead of buying anything in-store they prefer hottest offers online, which also let them save energy, time, and money.
The e-commerce growing trend made it difficult for retail stores to keep up with sales' targets and thus they decided to start disappearing across the US. You can call it "store closure is sweeping the country", don't know for good or bad, but its happening!
Don't worry; all these stores will be reachable to purchase online with incomparable discounts. Retailers like Bebe, Sports Authority, Macy's, Payless, and others are closing dozens of their stores on different locations—or hundreds of stores in this year.
So, here is the list of retailers that are closing and where you can hot liquidation sales. Their online discounts are also worth-a-try!
JCPenney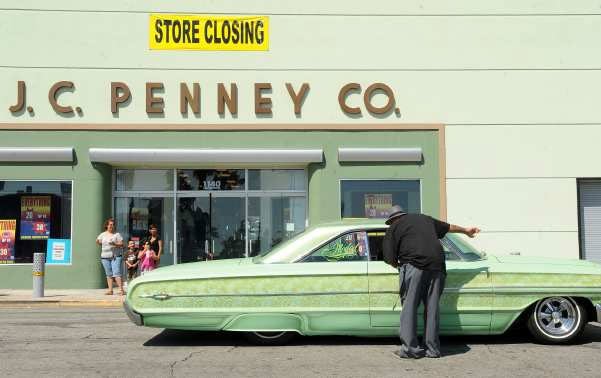 photo credit: latimes.com
No of Closing Stores: 138
Earlier this year JCPenney announced that they are planning to close around 140 stores in 2017. And, now they have also released the list of stores that are going to be shutdown and they are about 14% of their stores. All the stores will be closed in the next couple of months. A huge number of stores from the list will begin liquidation sales in mid of April and say Bye. The company following this decision is offering its 6,000 employees early retirement.
Marvin Ellison, chairman and chief executive officer of JCPenny said, "During the year, it became evident the stores that could fully execute the company's growth initiatives of beauty, home refresh and special sizes generated significantly higher sales, and a more vibrant in-store shopping environment." He further added to support the decision of shutting the stores down, "we will be able to effectively compete against the growing threat of online retailers."
Shop Online for Ultimate offers of JCPenny: Get JCPenny 20% Off site wide coupon code and other amazing discounts.
Macy's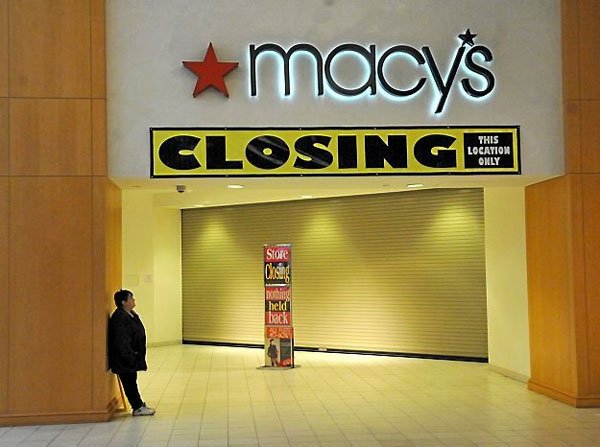 photo credit: twincities.com
No of Closing Stores: 68
This retailer hasn't just started shutting down its stores; they have shuttered dozens of stores back in 2016. But this time Macy's plans to close around 100 stores or almost 15% of its location-based stores, most probably over the next couple of years. This giant department store began its new year with the announcement of closing 68 more of its locations. The list of closing stores also have downtown Minneapolis which was opened in 1902. This closure will cause unemployment to 3,900 people.
And, if your local Macy's is still open then you can clearly notice some surprising changes as compare to the last time you visited the place. The retailer is mirroring discount chains, like: Nordstrom Rack nd T.J. Maxx by allowing customers to get their own makeup and shoes.
Shop Online for Ultimate offers of Macy*s: Avail 20% to 60% off on all clearance items and other codes and coupons.
The Limited
photo credit: staticflickr.com
No of stores closing: 250
In early 2017, this huge women's clothing retailer announced that the company is turning out the lights of their 250 stores, but every women can reach them online anytime. The company flashed the signs of doom while their biggest holiday's sales with no returns policy and in the end filed for bankruptcy. According to Business Insider, 4,000 workers were laid off.
The company quoted in an online statement, "We are sad to say that all The Limited stores nationwide have officially closed their doors. But this isn't goodbye. The styles you love are still available online — we're just a quick click away 24 hours a day."
Shop Online for Ultimate offers of the Limited: Shop anything or everything with The Limited 10% Off site wide using coupon codes and limited time offers on variety of items.
Abercrombie & Fitch
photo credit: cdn0.vox-cdn.com
No of Closing Stores: 60
The teen store—whose ripped models and ripped jeans epitomized cool in late 90s and early 20s—is all set to shutdown 60 of its US based fashion stores because their leases are expired. And these 60 stores are out of the total number of their stores that is approximately 28 stores worldwide. Unfortunately, after the stores' closure the company will continue to struggle, its predicted by the research group Fitch ratings.
The company's store count has dropped 20% since 2013. Abercrombie CEO Fran Horowitz said in a statement, ""The competitive environment resulted in more promotional activity and a lower gross margin rate than planned The Abercrombie brand renewal continues, although it is a work in progress."
An Alert for Our Users: The store isn't even able to fulfill its online sales' commitments. You can read a clear a message on their website saying, "Please know it has been such an honor to provide fashion for you and other strong, confident women for more than 50 years. Unfortunately, we've recently had to file Chapter 11 bankruptcy and can no longer accept any purchases."
American Apparel
photo credit: wordpress.com
No of Closing Stores: 110
The store was founded in 1989 and filed for bankruptcy in late 2016. This company hasn't announced anything officially regarding the shutdown, but it is bought by the Canadian maker Gildan. And their acquisition Gildan Activewear Inc., who bought the failing company American Apparel for $88 million, has decided to shutdown all American Apparel locations. Even, headquarter of American Apparel situated in Los Angeles is going to be closed soon.
Shop Online for Ultimate offers of American Apparel: Shop anything with American Apparel 40% Off site wide coupon codes and other appealing discounts
BCBG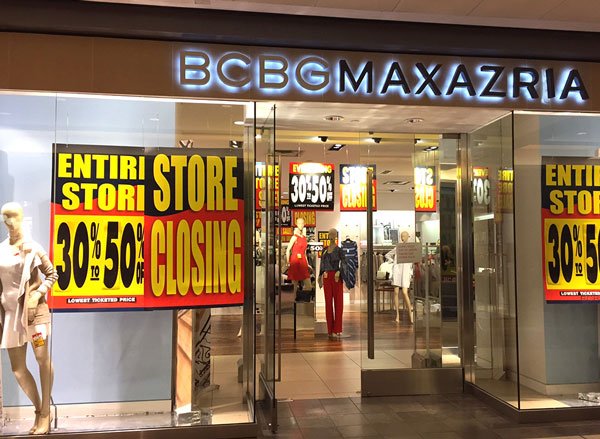 photo credit: stylebyfire.ca
No of Closing Stores: 120
It's another women fashion-based store that is going to be closed because of bankruptcy in 2017. Right now, BCBG has over 565 locations worldwide, and total 175 stores located in the US. And, unfortunately, most of their 120 stores that got shuttered are located in US. BCBG filed for Chapter 11 in March after they announced the shutdown of their 120 locations, it's actually more than a quarter of their total stores.
Back in January 2017, Lubove, the company spokes person said while talking to Bloomberg "BCBG is a world-class designer and producer of apparel, which with the necessary changes, should be able to be successful." He further added, "We are shifting the focus away from brick-and-mortar stores, and instead double down on e-commerce and selling the BCBG brand through other retailers."
An Alert for Our Users: It is expected that in their liquidation sales are going on within their store locations, so make most out of it.
Crocs
photo credit: wordpress.com
No of Closing Stores: 160
The maker of molded yet casual footwear, whose footwear is sold in almost every single shade you can even think of, is planning to shut down 260 of its retail locations by the end of 2018. Doing this, Crocs is going to reduce its retail footprint by nearly third of its original stores, which is 588 stores. And this decision was taken following the lost they faced in the fourth quarter of 2016, the loss was for $44.5 million.
Crocs president Andrew Rees said during a call with analysts, "Over the past few months, we continued to focus on removing unnecessary complexity from our business, for better services to our customers. We conducted a comprehensive review of our cost structure and took this decision of shutting down some of our stores' locations."
Shop Online for Ultimate offers of Crocs: Save $20 site wide while buying footies that stay trendy. Or you can get coupon codes that can help you saving big.
Chico's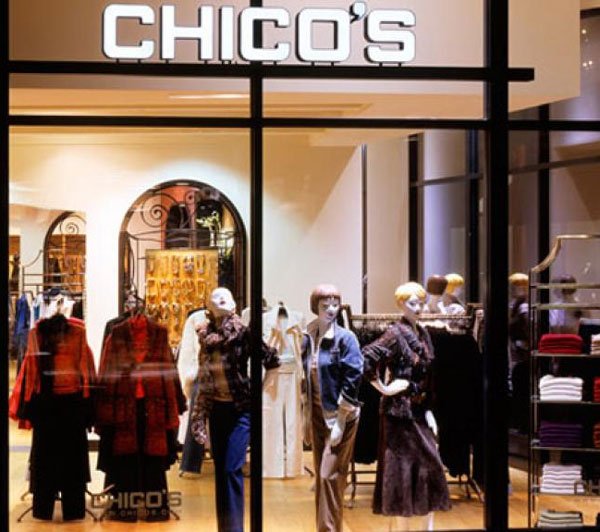 photo credit: chainstoreage.com
No of Closing Stores: 160
Chico's FAS, the parent company for White House Black Market , Chico's and Soma, is in the middle of its multi-year transformation process. The company said it would close 120 under performing stores by 2017, back in 2015. But now they have increased the number of 150 stores last year. Now, in 2017, the company is planning to open 10 stores at the same time they are heading towards closing 50 stores as part of their betterment plan.
Shop Online for Ultimate offers of Chico's: It's always amazing to enjoy Chico's 20% Off site wide offer and other discounts.
The Children's Palace
photo credit: yeswecoupon.com
No of Closing Stores: 200
The Children's Place, a clothing chain for kids is also in the middle of a multi-year to plan things seriously and for the betterment. The company announced in March 2015 that through 2017, it would close approximately 200 stores. The retailer initially said it would close 125 store locations through 2016, but it increased the number of stores that got shutdown because of a weak outlook. As of January, The Children's Place was operating around 1,040 stores.
Wet Seal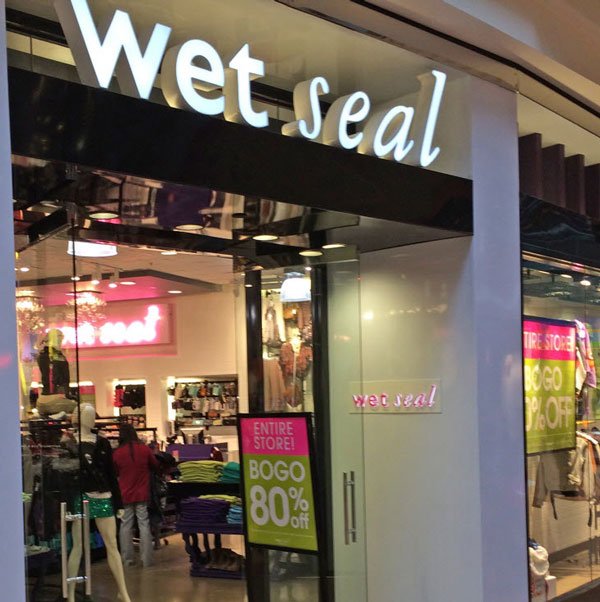 photo credit: stmedia.startribune.com
No of Closing Stores: 160
It's another teen retailer that is struggling from bankruptcy and going to close almost 160 store locations. These closures come two years after the store already closed 338 of its locations in January 2015 out of total 511 location-based stores. That was shortly before the company filed for bankruptcy protection. At that time, Wall Street's analysts suggested that falling foot traffic at shopping malls and increased interest in online shopping played a major role in Wet Seal's death spiral.
Shop Online for Ultimate offers of Wet Seal: Shop the comfortable footies with Wet Seal 15% Off site wide discount and other discount like Extra 20% Off on sale items and others without thinking much.
The matter of fact is: you can still shop most amazing collection of products from these stores using most convenient shopping method, which is Online Purchasing. Do visit us time-to-time as we stay updated with all the most wanted discounts and deals that can help you saving even better. Have a great day!
Published On: April 10, 2017

Latest Articles
Popular Articles
Featured Stores
Popular Discount
New Trending Discount
↑