Shopping Guides & Articles
6 Reasons Why Girls Love Wearing Black Even in Spring—Is It a Safe Fashion?
Right now, fashion-atmosphere is full of offers and styles. It's actually all about Zara's mid-season sale, Layne Bryant's 75% Off site wide, and also about finding chic ways to transit from winter to spring styling like a pro. And, most probably, you have only one thing in mind to shift your fashion-game towards having colors. But for those of us whose wardrobes are more like a black pit (of awesomeness, that is!) cannot just start wearing white or colors all of a sudden because it's sweltering out. However, you can start going colorful gradually. But people with infinite reasons to love black and its fellow neutral hues need to acknowledge that the cards are undeniably stacked against their choice: Black fibers retain more heat as compare to other shades. And retailers haven't still got the thought that a sundress doesn't seem to be dyed as an Easter egg, so you can't expect a great pieces in their summer's collection!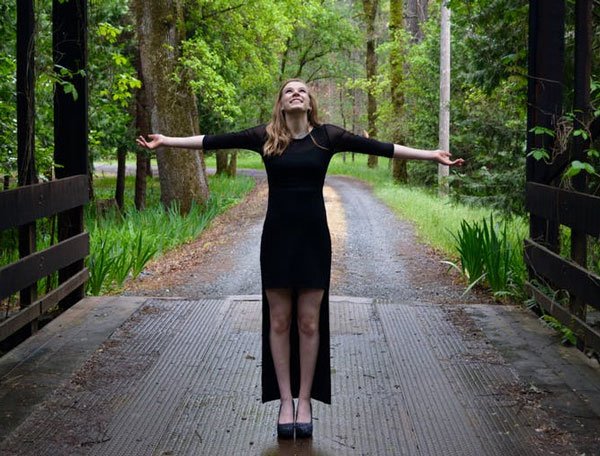 Anyways, people who adore black can still find it a default go-to -piece like wearing denim, LBD, and others. And they even don't care about the ones who says that black isn't even a color!! But no-body is interested into the science of it because the fact is: it's one of the most popular and loved color by women. You might be still wondering that what makes women go crazy for black out fits. So, scroll down to know some of the bang-on reasons why almost every women own 3-5 black pieces in her closet no matter what the season is.
Black and Passion Goes Hand-in-Hand!
Black color is always liked by the people who have passionate soul. Arguably, Women are on the more passionate side as compare to men, hence, like it more anyways. Also, the color black makes it easy to wear lots of confidence and passion is a feeling reserved for the confident souls. Women love to stay attractive, so having black color as their favorite does make sense. And the color black is, truly, the most attractive color out of the palette that has number of other bright colors. Right now, there is an H & M mid-season sale is going on, so any of you can easily grab the gorgeous black-looking dress!
Black Helps hiding stains
Any dress in color black is a sure shot protection against stains—visible stains at least. Whether, accidentally you dropped three packets of ketchup on your shirt or dress or some juice over your dress, the glad-to-be part is: No One Can See IT. WHY?? Because you are wearing black!! So, you can call any of your black dress stain-resistant, anyways!
This Color Never Goes Out of Style—it's Timeless
You might know people who look back at the most auspicious moments of their life, relive memories and can't help saying, "What the crap I was wearing?" yes we all know these kind of people and this can be us too. But interestingly, when it comes to dressing, you can never regret any moment of past, present, or future when you were is a black outfit—we can guarantee that. And, getting the most perfect LBD or any style in black color won't need you to splurge; you can avail Yoins 20% Off site wide offer and get done with the ultimate black outfit.
This is the color what "Fashion People" actually wear, most of the time. Have you cue the music from movie named "Beauty And The Beast?" if not, then let us remind you what the lyrics said about black: Fads may come and go, but black is forever. Yes, it's a forever color and can be carried well on almost every occasion.
It Makes Them Look Slimmer
You know what is the best part of wearing black? It is the most flattering one among all the others out there! So when you try to look thin? You better know that there is only one color that can help you vanishing all lumps and bumps, its none other than the color black. It can help you rocking all day long without a single thought of your bulges.
The LBD or the 'little black dress' is a real hit amongst women and girls who are in there teen. Everyone and anyone can carry it off and look graceful no matter what the event is. And this is one of the major reasons why women prefer this particular color over the others. Without doing much efforts or even without wearing a shape wear it can simply makes you look more toned and slimmer. And there aren't any women who wouldn't want to look slimmer than she actually is? After all, nobody, especially no women mind looking much toned and attractive.
Black Helps Relieve Stress
The first stress working women get in the morning is what to wear, and that the point where the color black starts its game. This color automatically help you looking dressed-up, no matter what material is, how old or crazy the fabric is, or what skin tone you have, this color will make you ready without eating much or your morning-time. Another secret is: this color also makes you look mature, unlike other colors who give you toughest time while selection one of them. So, without thinking much, grab any of the pieces that can match really well with your corporate styling at Tibi with 15% Off site wide discount.
Not only logically but in accordance with color psychology, the color black is best when you want to release stress. It creates a barrier between the outside world and the person. It probably does not let anything reflect, and keeping the true nature of the color in mind, you can believe that it absorbs everything, and hence, nothing gets reflected. This is one of the important principles behind the color psychology.
It also means power and control. So, a person wearing it can also control his/her emotions and deal with situations like a pro. Have you ever noticed that all the famous and powerful people in the world dress in the color black? Yes, the color is enough to show the power, success, and confidence of the one who is wearing it.
Black let You Play with Accessories
The color itself is so plain and attractive that it will allow you to have some real funky jewel and other accessories like a handbag, some hair accessory, or footwear. There might be some accessories in your wardrobe or you are in mood to buy but keep yourself composed because you can't wear them with dresses whose prints and designs are already shouting-out-loudly. So, here is a tip for you: Any time when you love to accessories with accessory that is unique or something that you never tried earlier, the safest way to try it on a black dress. And you know what layering on black is simply unlimited, which is a plus point for winters!
Published On: April 04, 2017

↑