Shopping Guides & Articles
10 Amazing Swimwear Cover-Ups You Can Buy In 2019
Heading to a
sunny island
to get a
sun-kissed
glow? Not without your bikini. Just like your
beach day is incomplete without a two-piece swimsuit
, your swimwear is not complete without a swimsuit cover-up. Wondering what that is? A
swimsuit cover-up
is made of a breezy-flowy fabric and does what its name suggests; it covers you up.
Swimsuit cover-ups come in various designs, materials, and prints. They don't only help you take gorgeous pictures for Instagram, but they also protect you from the sun and unwanted attention. Did you know that the sun causes about 90% of skin aging? This stresses the need to have a swimsuit cover-up with yourself at all times. A layer of fabric can reduce your flesh's sun exposure and decrease the risks of developing wrinkles, skin cancer, and more.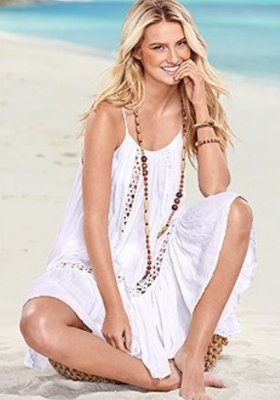 Over and above that, these cover-ups are great for when you want to cross non-beach areas. You cannot strut from the seaside to your hotel room through the lobby and street in basically nothing but lingerie. A swimsuit cover-up can come in handy at such instances. Since there are several different cover-ups available you can easily find one to your liking.
Different types of swimwear cover-ups
There are various types of swimsuit cover-ups available that differ based on their features. Here's a look into the mains kinds of cover-ups available:
1 - Sarongs
Also known as Pareos, these are long pieces of fabric which can be worn in a number of ways. You can wrap a sarong around your waist or wear it as a strapless dress.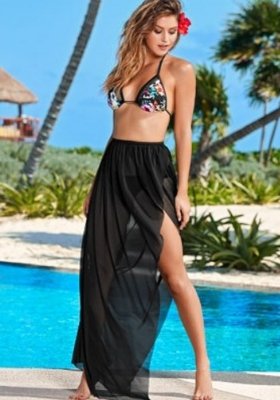 2 - Tunics
A trendy choice these days, tunics are made of light-weight, sheer fabric. These are like loose tops that reach below the hips. Some are long enough to cover the knees while others are shorter. A tunic may have long sleeves or short ones.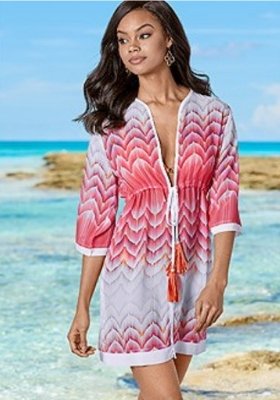 3 - Caftans
These are oversized garments that reach the ankles. They have wide sleeves which can be long or short. Since caftans cover your entire body, they offer sun protection best. However, shorter kaftans are available as well.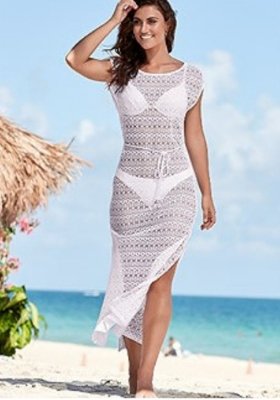 4 - Maxis
Maxi cover-ups end just above your calves and may come with or without sleeves. These aren't too loose but not too tight either. Maxi cover-ups are comfortable and never fail to look classy.
5 - Sundresses
Sundresses come in various styles. They can be strapless, flowy, short or long. The best part is that summer dresses can be worn casually as well on warm days, so the investment is worth it.
6 - Cardigan cover-ups
These cover-ups may be long or short in length. They have an open front and are made of a light fabric. If you'd like to show off your bikini, this is the cover-up to go for.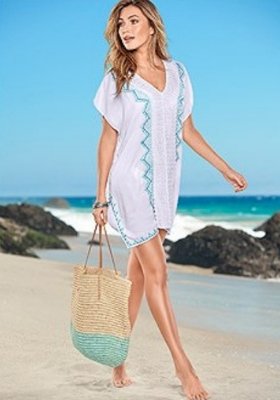 How to choose the right swimsuit cover-up for yourself
Shopping is fun but it can be overwhelming sometimes when you want to buy the right thing once. When purchasing a swimsuit cover-up for yourself, you have to mainly focus on three factors. These are the style of the cover-up, the comfort it offers, and the fabric that it is made of. Which cover-up you go for also depends on how much skin you want to hide.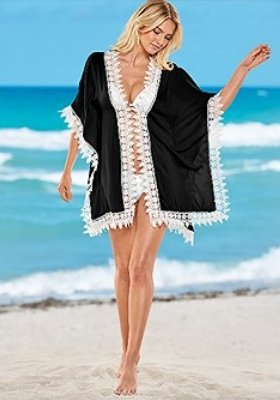 Be sure to purchase a swimsuit cover-up that matches both your personality and your swimwear. Know that there are different fabrics to choose from as well. You can go for a sheer material or a crocheted one as well. If you know you're not likely to wear your cover-up a lot or have a limited budget, use coupons and promo codes to get a discount on your purchase. This way, you won't have to spend too much.


10 swimsuit cover-ups to buy this season
Still unsure of where to buy your swimsuit from and which style to select? Don't worry; we have a list of the 10 chicest swimsuits that you can pick from this season.
1 - Printed Cover-up - Nordstrom Rack
This polyester bikini cover-up has a catchy design and print that can suit all body types. The sheer material allows you to give people a glimpse of your stylish swimsuit underneath.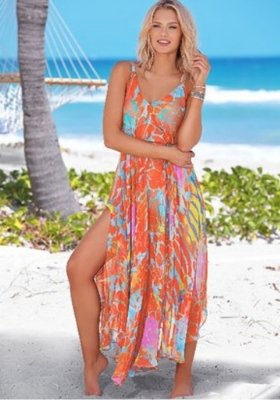 Get your
Nordstrom Rack
Coupon and save up to 84% on the full collection of women's activewear.
2 - Embroidered Sheer Cover-up Dress - Zaful
A sheer swimsuit cover-up that has embroidery detailing, this one is a must-have. Coming in white, this one exudes sophisticated vibes.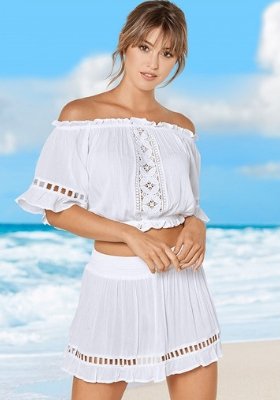 3 - Oahu Duster Acacia Swimwear - Revolve
This open front swimsuit cover-up has buttons as well so that you can rock it however you prefer. The cover-up reaches your calves and has split seams for added style.
4 - Striped Cover-Up Hoodie - Forever 21
A wee bit sheer, this knitted, short cover-up has a hood attached to it as well. It has kangaroo pockets too. Tassels on the hemline make the cover-up look even prettier.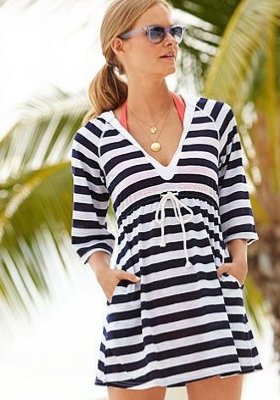 5 - Black Spot Print Sarong - Debenhams
This polka-dot print sarong can be worn in many ways. The fabric is 100% polyester chiffon in black and white. Get this classy piece for your tankini swimsuits!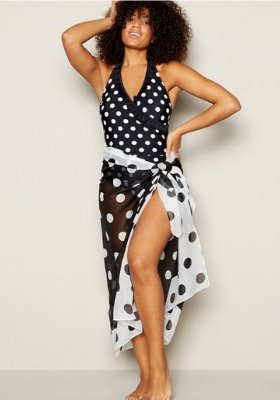 6 - Floral Maxi Kaftan - Accessorize
A cozy number, this kaftan maxi is for the women who want to look gorgeous and don't want to show much skin while doing so. Both the print and the colors are cool and breezy.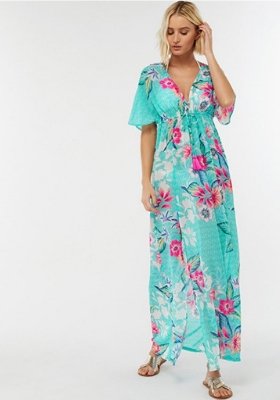 7 - Sea Party Embroidery Cover-Up - Cupshe
Made of lace, this cover-up has an open front and is embroidered. It also has a tie belt in the middle for those who aren't big fans of flaunting their tummy.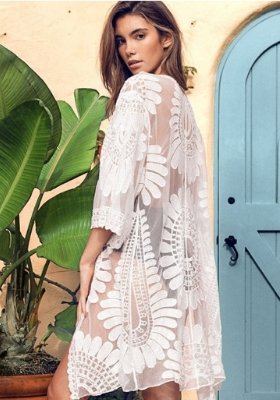 8 - Sienna Tunic - Beach Bunny Swimwear
Meet the crochet tunic of your dreams. This one has a fringe trim on the hemline and can pair beautifully with both a one-piece and a two-piece swimsuit.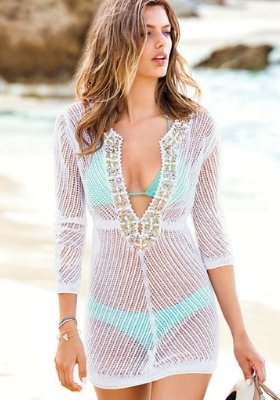 9 - Jumpsuit Style Cover-Up - Anthropologie
Made of organic cotton, this stylish piece is sure to win your heart. It's feminine and fun along with being unique. The best part is that the straps are adjustable.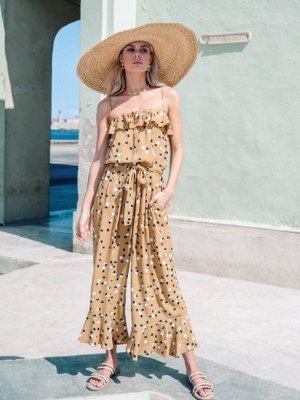 10 - Silk Butterfly Cover-Up - Swimco
Slightly sheer, this cover-up ends just above your knees. It has wide sleeves and a V neckline. The drawstring is adjustable so that you can tighten the cover-up easily.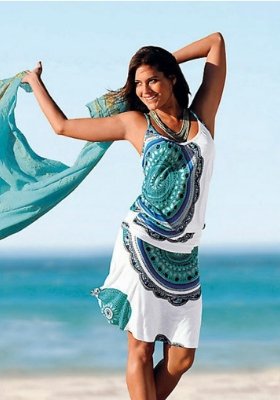 To sum up, there are various styles of swimsuit cover-ups available. These cover-ups are essentials for beach lovers - you can go for a kaftan, maxi, dress, cardigan or tunic style
cover-up
. Be sure to choose a print and design that is to your liking. You can buy your favorite swimsuit from your
favorite brand
by using their discount code.
Published On: February 08, 2019

Latest Articles
Popular Articles
Featured Stores
Popular Discount
New Trending Discount
↑