Shopping Guides & Articles
8K Flexwarm Heated Jacket-Innovative Technology That Makes Optimal Warming Possible
The global warming is taking toll on weather and resultantly the winter is getting harsher each year. However the frigid days and chilly nights can't stop people to roam around the town and hang out with friends. They only need a warm enough jacket that keeps them properly insulated. Thanks to innovative technology and excellent craftsmanship, the 8K Flexwarm heated jacket is indeed a blessing for all those fun loving people who don't want to disengage themselves from fun and frolicking outdoor activities in cold weather. My 8K Flexwarm Heated Jacket Review is for all those who want to enjoy winter fun with a cozy, comfy and warm outerwear.
Significant Features of Flexwarm Heated Jacket:
I have made comments on the most notable features of this jacket. Check out the 8k Flexwarm heated jacket qualities below:
Construction:
Designed by top class engineers after extensive research, the construction of 8K Flexwarm heated jacket is made with a unique printable heating element that is ultra-thin .i.e. 0.55 mm. This material is intelligently and nicely placed between outer and inner layers of the fabric. The fabric used in this jacket is highly breathable, extremely lightweight and 100% water resistant. The high quality hardware, a detachable hood and YKK zippers provide extra protection on windy days.
The jacket has been designed with three heating zones. I.e. two at front and one at rear.
Technology: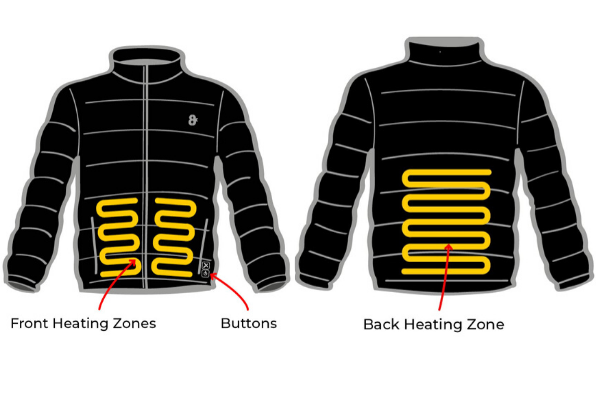 The 8K is equipped with an innovative technology called Adaptive sensor technology (ATS) .This technology gives the 8K Flexwarm heated jacket an edge over others made from carbon fiber. While carbon-fiber is devoid of inner sensors, it does not have the capability to detect the accurate temperature and thus can't adjust to change in mercurial levels and adapt to it. The ATS sensors however instantly detect the slightest change in temperature and the warmth inside the jacket is regulated accordingly. It is therefore a jacket that keeps you optimally warm all the time.
Design:
The 8K jacket combine the most contemporary and stylish design and quality making it fashionable besides being a protective outerwear.
Battery:
The 8K Flexwarm heated jacket is powered by a USB battery pack having a lightweight 7500 Mah Battery bank weighing only 170 grams. Having 2 USB ports (one for the jacket and another for charging smartphone or other devices), the battery takes only few hours to charge and lasts for 13 hours, a much better performance than Carbon-Fiber jackets that lasts 8 hours on average. One can always replace this 5V battery with another one.
Quick warming:
The 8K Flexwarm heated jacket is too quick in warming your body. It reaches 122 o F in just 360 seconds i.e. around 6 minutes. This is much better than jackets made of Carbon Fiber that take 1335 seconds or appx 22 minutes.
Energy-efficient: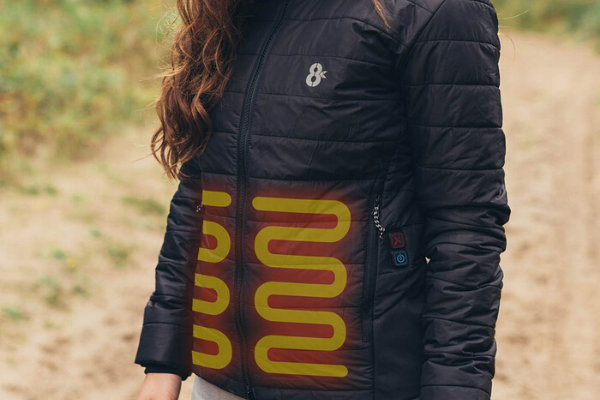 The 8K is 50% more energy efficient than its Carbon-Fiber counterparts.
Specifications:
| | |
| --- | --- |
| Style: | Casual and down-style, Very slim fit. |
| Color: | For Men-Black, Grey, Blue and Light Blue. |
| Size: | For Men-Small, Extra small, Medium, Large, XL and XXL For Women- Small, Medium, Large and XL. |
| Closure: | 2-way locking Zipper. |
| Main Fabric Composition: | Water resistant and fast drying material. |


Pros:
The jacket is tested on European safety standards and is extremely safe.
It is machine washable.
The warmth zones can be controlled by using apps on a smartphone, besides buttons provided on jacket.
Being extremely light weight the jacket is easily portable.
One can charge a device while on move. This is a cool and nice feature and is a real bonus.
The jacket is a perfect balance of warmth, weight and style.
How to Buy:
For buying the 8K Flexwarm heated jacket, the best option is to go for online purchase @8flexwarm.com. Here you can select
products for Men
or Women and that also on sale with great discounts. You can also refer the sizing guide for perfect selection. If you buy from 8Kflexwarm website you can also avail the buy now pay later option that allows to own product now and pay later without any interest in installments.
Buy an 8K and save:
There are many money saving options which help you getting 8K FlexArm heated jacket on a budget. A promo or coupon code is the most notable. If you are a coupon lover, searching on internet for
8KFlexwarm heated jacket coupon codes
will reveal enticing discounted deals ( from 25%- 50%).Grab a promo code from some trusted coupon site and get fabulous discount on pasting it at checkout. Currently there are many active codes available for 8K Flexwarm heated jacket. Some of these are: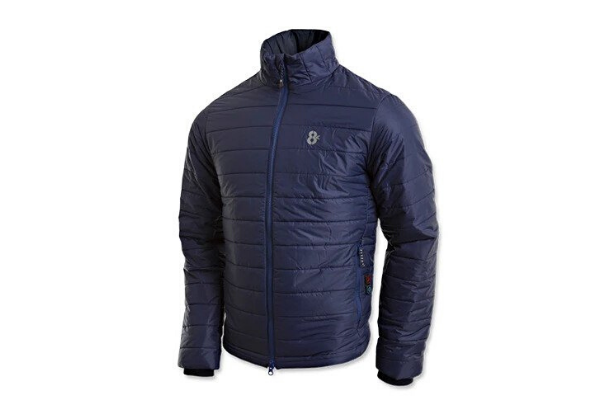 Codes for Amazon, Macys and JC Penney with discounts ranging from 25% to 40%.
There are many Thanksgiving, Cyber Monday and Christmas sale related coupons and promo codes offering great discounts on 8K Flexwarm heated jackets.
How does it work?
There are cute light up buttons at the side of jacket. The lower one is for selecting the zone you want to heart. You can heat the front, rear or all zones. The upper one controls the level of temperature. I.e. starting from off position it has a range of low (37o), medium (45 o), or high (50o).Follow the below given steps to make 8K Flexwarm heated jacket function properly:
Charge the power bank fully. For first charge, the recommended time is 6 hours.
Cover the power bank to USB.
Use the button on the side of jacket to control the heat in zones.
Alternatively you can download the power bank App on your smart phone from play store. The power button should be pressed till it pulses and gets ready to pair. You can select your heat zones and choose your desired temperature from your smartphone.
Published On: December 05, 2019

Latest Articles
Popular Articles
Featured Stores
Popular Discount
New Trending Discount
↑