Shopping Guides & Articles
Top 10 Reactions To Black Friday 2019 From Twitter
Unless you live under a Dwayne Johnson, you know that last Friday was no ordinary day.
Instead, it was the day when enthusiastic shoppers grapple on the aisles of Walmart (don't worry you'll get some of that in this article too) and hordes of customers storm into malls practically reenacting scenes from Train to Busan.
Anywho, Black Friday is now done and dusted. And while you will struggle to find any flat-screen televisions for under $10 now, there are still plenty of deals available on
men's clothing
and other stuff you might need for Christmas.
Of course, Black Friday this time round inspired its fair share of memes and quips. Some people compared the event in Canada and the US, others commented on the unannounced MMA contests that occurred in the department stores while some complained about the lack of discounts on their favorite things.
Let's take a look at some of the top reactions to Black Friday.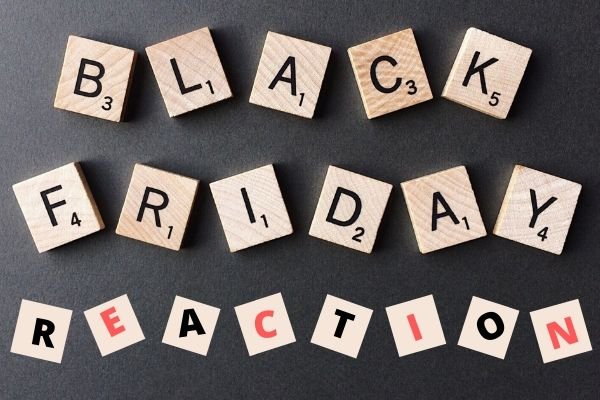 1.
Jiu-Jitsu in Target



FINALLY! We've reached the critical tipping point in BJJ's history where the Black Friday fights at Target are contested between two jiu-jitsu practitioners from the half guard! #bjj #blackfriday pic.twitter.com/4pbd0dAJSk

— Rener Gracie (@RenerGracie) December 1, 2019
From ridiculous brawls in Walmart to much classier Jiu-Jitsu contests in Target – our society has made great progress. And Rener Gracie, the head instructor of the Gracie Jiu-Jitsu Academy, couldn't be any happier.
2.
The Respectable Black Friday in Canada
Black Friday in Canada.. pic.twitter.com/lCSlhqRuLM

— Men's Corner (@Mens_Corner_) November 30, 2019
It doesn't get more Canadian than customers walking into a store in an orderly fashion and the staff applauding them. Maybe if everyone was getting free Maple syrups, this could've been declared as the national video of Canada.
3.
No Black Friday deals on Good Men
Were there any Black Friday deals on men who are consistent and trustworthy? I know they've been sold out for awhile now, but didn't know if a new shipment came in yet!

— Kalen Allen (@TheKalenAllen) November 30, 2019
Good men are hard to find these days. So you could only hope there would be a deal on them on Black Friday. But alas.
4.
Who Cares!
7.4 billion spent on Black Friday. Can say I contributed 0 bucks to that. Trying to do more meaningful things that don't cost a thing. That is what the holidays should be.

— Adam Joseph (@6abcadamjoseph) December 1, 2019
While thousands of people were having impromptu professional wrestling matches across the stores in the country, some folks couldn't care less. Adam Joseph, for instance, saved 100% by not bothering at all on Black Friday. Perhaps this was the greatest deal availed that day.
5.
Baby Yoda Joins in the Fun
When you're Black Friday shopping and watch two 44 year old women fight over discounted bath towels. pic.twitter.com/tilhq6WE1t

— Jordan Payton (@LEGIQN) December 1, 2019
Baby Yoda memes are all the rage these days. Jordan Payton believes this pic of the infant Jedi Master sums up how people react to fighting customers on Black Friday. Right, he is.
6.
An Important Thing to Remember
Big shouts out to anybody working retail to provide for themselves or their families during this holiday season for real. As consumers and shoppers I think we can all practice a little more mindfulness with our fellow working humans as well

— dom from hartford (@DomMcLennon) November 30, 2019
Rapper Dom McLennon gave an important message to anyone who's shopping this season. People working in retail stores are simply out making a living and consumers should be mindful of how they treat them. A little empathy goes a long way.
7.
No deals on Food
Why are there no Black Friday or Cyber Monday sales on food

— Robotaki 👻 (@Robotaki) December 1, 2019
Someone is asking the right questions. Why aren't Chipotle and Taco Bell giving us 40% off on Cheesy Double Decker Tacos? Not fair. Not fair at all.
8.
Black Friday Serves Multiple Purposes
The only good Black Friday deal I found was one of those AeroGarden things. I was like "this would be awesome for growing weed", then remembered I'm on probation and should probably not do that.

— MalwareTech (@MalwareTechBlog) November 30, 2019
Many people had high expectations of Black Friday. But their plans took a hit and went up in smoke as they failed to keep off the grass in the past. What a buzz kill.
9.
Something to Keep in Mind
I saw someone saying "20% off is not a Black Friday sale" and I just want to remind everyone that small businesses can't do big doorbuster sales because we're not million dollar companies. We're making a living. Some of us will lose money if we do any more. Pls respect that.

— GIVE MY PINNED TWEET LOVE PLS 🖤😭 (@leneeh4) November 30, 2019
It's important to remember that not all businesses can afford to give massive discounts. Several small startups are trying to turn a profit in an extremely competitive environment. Black Friday could be a perfect opportunity to support such ventures.
10.
Finally, Congrats to Shopify
Crazy to think that it took 6 years until our merchants sold their first collective billion. Same as yesterday's Black Friday.

— Tobi Lutke 🌳🌲 (@tobi) November 30, 2019
Tobi Lutke of Shopify announced on Twitter that his company was able to hit 10 digits this Black Friday -an amazing achievement for the popular eCommerce platform.
Conclusion
Regardless, Black Friday 2019 gave brands the opportunity to showcase their offerings and consumers get a chance to avail extraordinary deals. If you missed Black Friday, don't fret it. You can still use
Coes promo code
to get some killer suits with up to 40% discount. There are plenty of bargains still available.
Published On: December 03, 2019

Latest Articles
Popular Articles
Featured Stores
Popular Discount
New Trending Discount
↑