Shopping Guides & Articles
Dress for Success - How and Why Dressing Style in Office Matters
It was long time ago when every mentor, recruiter and fashion instructor emphasized on the importance of clothing styles. Not that today it has become less important but the idea has become almost natural. With guidance feeds loading on fashion blogs and social media every day, almost nobody is a fashion disaster. The choices however, make people brave enough to try choices that are much diverse than suits and dress pants.
Image Source: alisadunnluxe blog
Is your everyday fashion mixing up with your looks at work? It must sound pretty comfortable but is it helping your career?
When you have goals, every single step matters, even how you dress and how your phone never goes off for example. Interviewers before they give you chance to express yourself would need an expression of preparation. Your dressing does it best. As an article in Forbes put it, "Non-verbal cues can speak volumes, especially to a job interviewer".
If you are here, an important interview might be approaching in future or you maybe just making yourself ready for a promotion. You won't be a "whoever" at work, after reading these tips about how you may dress best if you are going to interview in certain fields.
Corporate Sector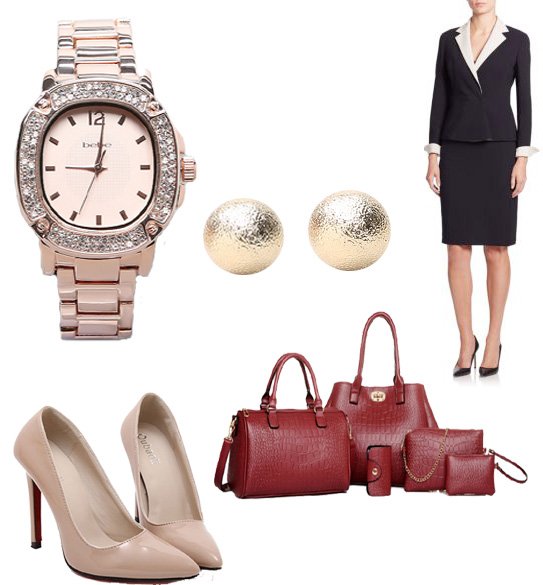 Image Source: trendsgal, saksfifthavenue, bebe
Nobody should really screw up their style at this one because the dress code of this sector is very clear since forever. Suits are your only choice at least when you are appearing for an interview. Blacks and Navy blues are your safest choices. Finish it with a good expensive tie and neutral colored shirt so there are no confusions at all. The conservative is as uniform for the women who have to stick to pants and or knee length skirts with a simple jacket or blouse possibly white.
Shoes that make you comfortable
and have impressive finish complete a well prepared look. Women should pick heel length that doesn't make it difficult to walk. Accessories should be present but not too bold to take over your suit.
Why you should Follow their Dress Code
There are number of reasons why women in Corporate Sector are expected to dress serious. Here are a few which might seem valid for you.
1. Neutral colors with fine cuts branded suits are complimentary with the industry and most businesses working within it. People who are relying on your consultation for their money need to see clarity in your vision that suits brands seem to serve better.
2. Also there are great opportunities to move up in the industry and like they say "Dress for the job you want", people even at lower levels can expect great things by looking all put together.
3. Corporate jobs are mostly about decorum and protocol and the more you show respect for them in your overall attitude, the more place industry will like to have for you.
Tech related jobs
Image Source: bostonproper, reebonz, whitehouseblackmarket, styletread
Semi-casual will look good in this house. Check out the nature of the company and if they are a startup with mostly young employers, you even have a shot with graphic shirt. Disrespectful, bold comments on your shirt are not recommended even if your interviewer is a cool entrepreneur. If you want to go midway Khakis, polo's and half sleeve shirts are refreshing choices.
Women should have basic makeup on and any blouse or sweater paired up with pants or culottes. Several online stores are offering
great pants for discounted price
and for a good career starter they are a must buy. If your tech job is creative like a writer or designer, you have to show up with some cool accessories. Statement/Nameplate necklaces are great in case you really want this job and you don't want them to forget you easily.
Why you should follow Semi-Casual
1.
Collaborating with industry standards would definitely help you fit in any industry and semi casual is the industry trend.
2.
Why semi casual? If you are a fan of suits it might be coming to your mind but the industry of innovators have broken the dress code ties reasonably. Aspiring people in the industry have opted for more casual looks limiting the suits only for special occasions. So, there is a set impression that semi-casual easily dressed up individuals are more of innovators.
3.
No bound in colors probably to let the vibe of cool thinker and easily approachable, out. According to the psychological proven facts and tips, warm colors let people be open about their ideas,which is the core demand of this innovative job.
Marketing Jobs
Image Source: express, dkny, ashleystewart, nastygal, monnierfreres, journeys
All you want for this job is attention and it will be the case from the start.
Get your statement necklace or ring
and make use of it. Laced blouse, leather jackets or anything that defines your taste will look good on this job interview. Make sure that you are not wearing fringe or ripped jeans. Mixing your party looks with the professional ones will be a twist that no employer will like.
Why do you need to impress them?
1.
Basically because you want the job. Marketing Jobs are all about setting and impression and taking it to the level of confidence building. It will be easier for the hirer to believe in your presentation and ideas when your way of presenting yourself is impressive.
2.
Dressing up is a concept that will be associated with interviews and you can read hundreds of articles on it. The job of marketing itself involves lots of interviews and meeting with new people who would continually judge your confidence and comfort level. So basically, you want a quality impression to go out and sustain by dressing well.
3.
Also, if you are working in a fashion or advertising related field, people would like to know your perspective and respect for
"What looks good to the audience"
.
Management Jobs
Image Source: tradesy, 6pm, styletread, express, eyewearplanet, mabelle
Who works there, who will you be handling the choices may really be worried. But since dressing well is not an option here, you should research what their current management dresses like and how you can mix up with that style. You can wear suits, jackets, skirts and jeans, sheath or anything that wouldn't be too sparky.
Your hair and makeup shows your intention and preparation to take the career challenges. It's better to not take it light or go out of character either. Building a wardrobe consisting of premium brands seems a little difficult for those who are just starting a job. However, there are ways to get even the most elite brands for the
price you can afford
for example with coupons.
You are a manager, why you need to Inspire
1.
"Success doesn't come to you, You go to it"
, said Marva Collins and you have gotten there. For anyone who has reached this level, there is a hope to do more. With your each appearance at office, you have to portray the success and the progress in it that you aspire.
2.
If you know all the rules but don't look professional, people might not take you seriously.
3.
Most of all, you can't be casual looking manager in higher level meetings where everyone else is dressed up because then you will be only a mole in the eye.
4.
Don't just dress up for the meetings though, because you are in the middle so people on both sides should be able to trust and believe in "How you think".
Stick with the brand that always fits you well and people will be following your everyday choices whether its fashion or career.
Published On: October 28, 2015

↑