Shopping Guides & Articles
ModiBodi Review: Do Their Undergarments Works The Way Brand Claims ?
Almost every lady out there must have heard "No matter how you feel. Get up. Dress Up. Show Up. And never give up." Tho, it's quite inspirational but still there are some days where only women can understand the uncertainty of things that she faces. Those particular things might be presumed as usual situations for her but at times she has to face embarrassing unmentionables—from light bladder leaks to sweat stains on pants to menstrual onset or overflow to spotting to discharge to odor. She handles plenty of them at the same time and has to be ready to deal them like a pro. We can totally relate to you girl and this is the only reason we thought to take some time out and feature a review on Modibodi.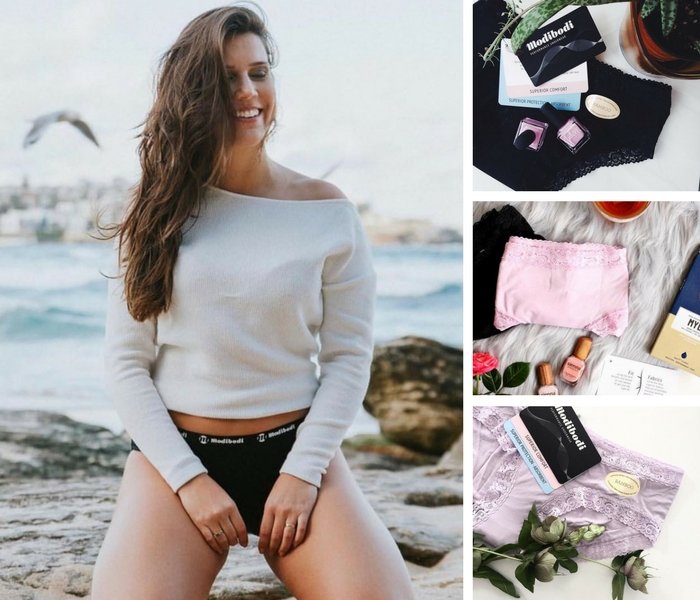 We love learning and letting our users learn and know about things that can make day-to-day fashion-life easier, affordable, and comfortable and fashion mishaps vanished. Ladies never mind appreciating and trying the invention that can make that time of month a relaxed one. Whereas, it's just about periods but also about the issues women need to fight against to look flawless and keep themselves from any embarrassing situation of having stains on their pants or any bottoms.
A brand called Modibodi claims to keep women fashion game much safer with the underwear they design. To know what they are and whether their claims work or not, let's read further to know what we got out of them when interrogated the brand.
Review of How Modibodi Started
This great idea of women safety from embarrass-full moments came into being when a lady, Modibodi CEO Kirsty Chong, got frustrated from issues that we all women face like days where periods are lighter, odours, stains, and other issues. She than discussed it with friends and family where she realized that every other women is having such issues and she decided to bring some solution that will empower women. This is how the brand started its journey in late 2013. It took almost one year to create and design the products. Meanwhile, she consulted and discussed concerns with high-number of fiber companies and textile engineers to design the best possible products. Before taking this underwear to the market, the brand took 1,000 tests because their main motive was to solve the problems, sales was not really concerned at that point of time.
Review of ModiBodi Ratings based on their Services and Items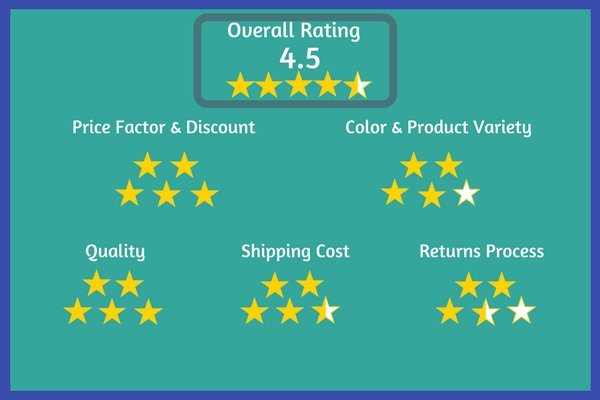 Review of What Modibodi Underwear is and How Its Different From Others?
Modibodi proudly caters to ladies of all sizes and ages. The brand is offering stylish underwear with amazing comfort that you'll love to wear. These undies are best and reliable substitutes to liners and pads for the days where your period is lighter or you are facing other issues that are quite embarrassing when some unwanted lines appear on your bottoms. However, their uniqueness don't really cost big to its users as Modibodi coupon codes and other bundle offers allow customers to get great discounts on products that are already available in affordable price range
Modibodi underwear is ideal for everyone who is in need to combat discharge, light bladder leakage, sweat, period leakage, odour or spotting. They're also an impeccable product that can be used by pregnant women as they help to protect them from any unpleasant and instant leakage or discharge, which is very common during pregnancy. There are different levels of absorbency from super light to maternity; you can choose the style that fits perfect to your absorption needs. The light absorbent underwears hold up to 5mls and the Moderate Absorbent undies hold 8-10mls, so before making purchase do read the descriptions and select the style and size thoughtfully.
Review of how uniquely these Modibodi undies are designed to Meet Modern Woman's Needs
Modibodi uses patented Modifier Technology to make their products effective and workable in unusuall conditions. It's actually a three-layer system that can work as same as other disposable feminine hygiene products are doing or they can be even better choice to have as a backup on heavier or any other normal day. Here's how it works:
The upper-most layer or these undies wick moisture away from the skin leaving it dry. It doesn't only remove the moisture but also has antimicrobial properties that fight odor
The middle layer brilliantly absorbs up to 3 teaspoons fluid, again this absorption depends on which style you choose
The bottom layer is waterproof that keeps leaks from seeping through onto your outfits, furniture or sheets.
Review of Modibodi Undies' Special Features
Comfortable, soft, and high-quality fabrics
In the gusset they have 3mm thick waterproof, absorbent lining
A great range of designs from sexy to classic
They are moisture-wicking and breathable
Machine washable; air dry or tumble dry low
Review of ModiBodi's Risk Free Trial and How to Return them
For the first timers, the store offers 30-Day risk free trial because they want new users to experience the amaznigness of these underwears and then decide whether to keep it or return it. Only first time customers will get chance to try an undergarment for 30 days, in case if they didn't like it, they can return it and get Full Refund.
Situations that can exclude you from 30-day risk free trial, even if you are first timer, are: When you buy anything from sale, clearance, if you have purchased goods with Afterpay methods, and menstrual cups.
In general, if you are a regular user of Modibodi products or just shop often, you can also return products. But for that, you first need to contact their customer service via email. Once the brand's customer representatives will receive you email, they will contact you and if they will make sure that you can send back the purchased items for exchange or refund so you will need to pay return charges.
Review of Modibodi's Social Cause that Says "Share the Dignity, Empower Women in Need"
It's definitely the best idea on which Modibodi has been working; it is an innovative solution for women in need. The brand understands that homeless women are not really able to take care of their hygiene that may cause personal effects on their health. While some other organizations are sending over reusable pads to such females, but still the washing process can bring much shame because it's blatantly obvious that they're hygiene products. To solve this issue Modibodi's garments offer them the chance to keep their dignity and hygiene perfectly fine.
However, women in need of hygiene update are supported through Modibodi's charity partner "Share the Dignity." Customers can also directly support homeless women by purchasing a gift voucher from Modibodi. Throughout the year Modibodi has been donating underwear to various campaigns in conjunction with Share the Dignity and also work in partnership with Samaritan's Australia to make sure that all young and modern women in need can have easy access to reusable hygiene.
Review of What Internet Stars are Saying about ModiBodi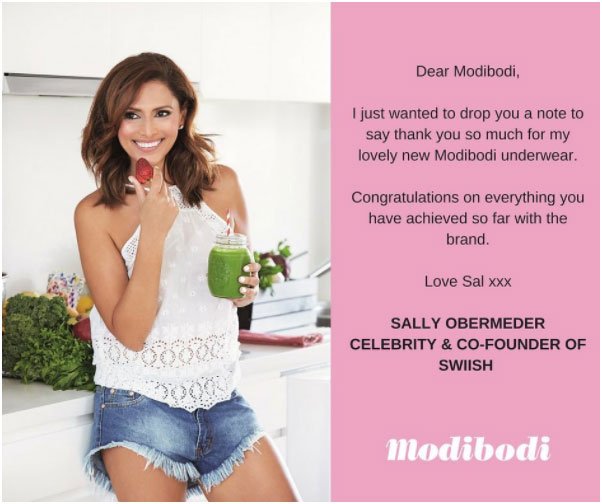 Review of Positives and Negatives of ModiBodi
Pros:
They offer free shipping when customer shop up to certain amount
Great range of sizes can be purchased, they also have plus sizes
There is a style to suit everyone - pregnancy, g-string, sports, bikini, boy-leg, full brief
Suitable for all ages of ladies from teenagers right through to the elderly
They are machine washable like any other panties
They are not expensive and often offer coupon codes and other saving deals
Quality of underwear is super-comfy
Returns can be made within 30 days
First time customers can even return underwear they used
Cons:
Except first time buyers, all customers need to pay return charges
Limited range of colors is available
They offer sale once a year
Review of What Experience Modibodi's Customers are Sharing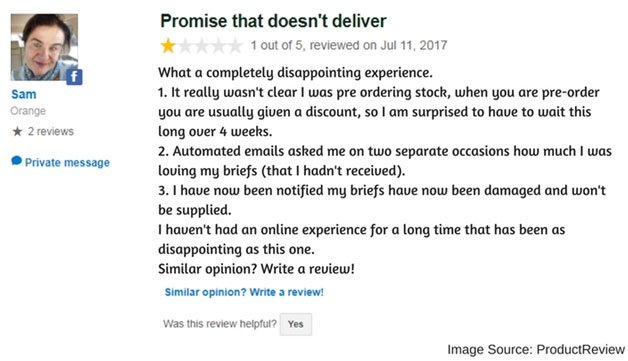 We actually don't get what is happening with this beautiful lady. Hope that Modibodi have read her review and reached out to her for entertaining her with best experience.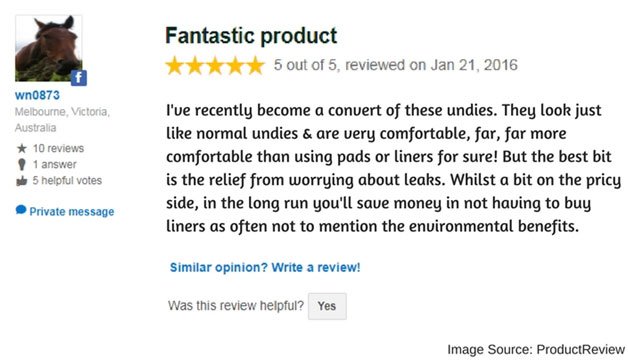 Now that's what every woman wants to feel in her everyday routine. The best feeling is when you don't need to worry about the wet lines on your pants; this will really make you even more confident.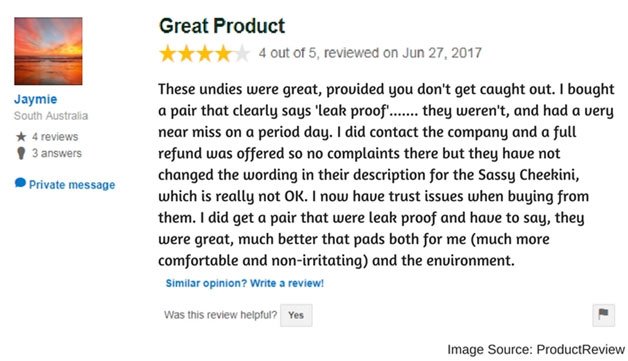 This is we all want, products that are easy to use, comfortable, and relaxing but apart from all these things we much appreciate when there is some product that isn't be harmful for our environment too.
Word!
As women we all can relate to the situation and circumstances that Modibodi has been focusing on and creating underwear to deal with them. We really believe that giving this brand a try won't cost you anything as first 30-day trial is FREE and you will get complete refund if will not be satisfied with the performance of this product. If you are worried about the shipping charges, so here is a trick: Modibodi offer free shipping when you exceed some specific amount on your purchase, so place order to exceed that limit. If you won't be satisfied, you can simply return it and get full refund and if you will be in love with the products so there is no harm in keeping them. In both cases, you will be the smart winner.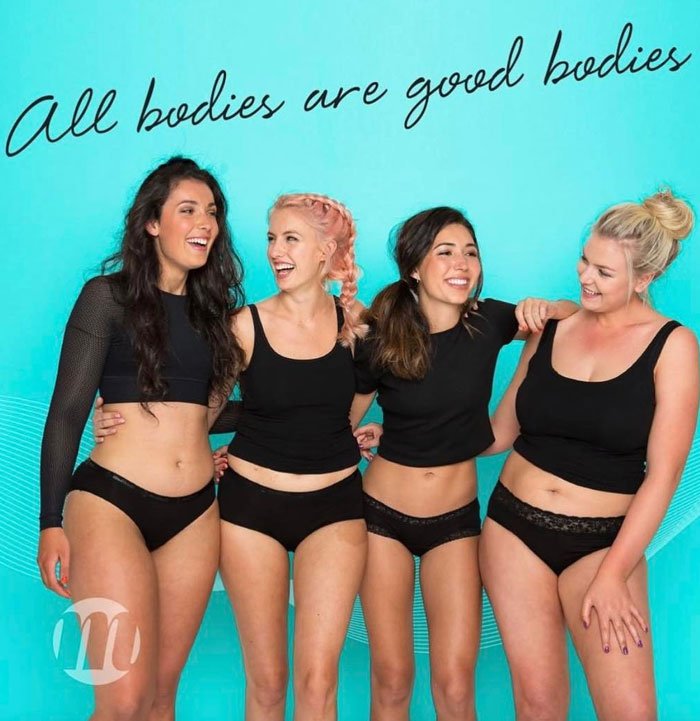 Our main focus stays towards giving the right knowledge about the brands and products to our reader through our review and we hope we are meeting that aim.
Don't forget to share your experience in the comment section below, we wish you have a great one!
Published On: July 24, 2017

Latest Articles
Popular Articles
New Trending Discount
↑