Shopping Guides & Articles
Francesca's Review — Is This Boutique Really a Fabled Wonderland of Baubles and Treasures
When in need of an individual shopping platform that makes you look fashionista, help décor your place, or vanish the hassle of selecting hottest gifts for loved ones, you would love to have a platform that is affordably fashionable. And, Francesca's is firmly one of the stops that know how to serve customer's needs most affordably. This boutique has apparently been appreciated for its uniqueness, cuteness, adorable pieces and girly vibe. However, now-a-days, we are on serious hunt of stores/brands that are stunning and most searched by our users or stores that are hyped for any reason. And the reason behind all of this concern and hunt is: we just try to understand our users' concerns, satisfaction, good or bad experiences so we can make their shopping time better one.
As we never want any of our loyal users to face some bitter shopping experience using our platform, we are busy in writing completely unbiased reviews for plenty of most searched or hyped stores. Analyzing and then writing down this whole scenario is just to make the decision-of-purchasing from that particular store much easier for our users and community members.
So here is our next find called "Francesca's", which is surely one enticing way for fashion chics to spend money. Now the question is: Does Francesca's is worth to shop? So, to all our community members here you go with the most scrutinized review of Francesca's that we have examined just for you. Go and unveil it!
Flash Review of Francesca's Products
Apparel
*PRICE RANGE* of apparel Starts From $4.98 and ends at $75
Their apparel section has: dresses, swimwear, tops, bottoms, intimates, outerwear, and etc.
The pieces they carry are not age-specific, but they are mostly designed for young chics. Still there is enough diversity that from teenagers through 70 year-old women can get some exceptional pieces
Jewelry
*PRICE RANGE* of Jewel Starts from $9 and ends at $75
They are equipped with attractive jewels like Necklaces, bracelets, earrings, rings, and much more
Francesca's does carry many designer copycat styles but for a better shopping experience they are at much lower prices
Accessories
*PRICE RANGE* of accessories Starts from $10 and ends at $125
From shoes to purses to scarves to headbands to sunglasses to anything from accessories you name and it's all here. There are plenty of stylish yet delicious finds
Gifts
*PRICE RANGE* of gifts Starts From $4 and ends at $130
From Mother's Day to Christmas to Valentine's Day to wedding gifts to plenty of stunning finds for almost every occasion Francesca's sells more exclusive items while keeping the prices down
Bubble bath accessories, cards, and books keep this place packed as well
Home Décor and Accessories
*PRICE RANGE* of home décor and accessories Starts From $5 and ends at $250
Francesca's has plenty of products that can help you decorating your place and manage things perfectly
Crystal Clear Review of Some Worth to Know Things Before Making Purcahse at Francesca's
They Don't Offer Extreme Size Range For Both Ends
Tho the store has lots of items other than clothing, but as their jewel and clothing is much famous as compare to other products. So definitely beauties with bigger body frame also expect some great fashion pieces from this unique and much loved boutique. The size chart of Francesca's doesn't show the plus size measurements, but recently they emailed their users that they have extended their size range and now the store has lots of plus size options to shop from. But unfortunately their tiny collection of plus size isn't well designed as the normal clothing at Francesca's is. Here is the size chart featured at their website:
Much to customer's dismay, Francesca's plus size clothing options are really less or you can say that their apparel isn't for plus size chic at all. And it's not just the case plus size is dealing with, but many of the petites also have complained regarding the same issue. The store has very limited variety of apparel having XS size. Here is one of the customer's reviews for Francesca's size:
Review of Francesca's Great Discounts and Saving Options
With so much variety of products for fashion, occasions, and home, Francesca's frequently gets generous to its customers and offer great discounts. They are known for frequent sales, for instance, over a recent weekend, Francesca's offered 75% off of marked items and it included all the categories they are dealing in.
Not only sale discounts, but this well-known boutique is also known for its super-saving deals and coupon codes that allow consumers to save on everything they buy at their website. Right now, you can check out their ultimate offers:
25% Off on swimwear and cover-ups
BOGO Offer! 50% Off on jewels and accessories
You can check out these discounts and other most-wanted saving offers on ClothingRIC.com anytime, as we strive to meet our community members discount needs by upgrading our store pages on regular basis.
Francesca's Review Regarding Free Shipping
Francesca's offers free Saavy Saver shipping on all orders that exceed the amount of $60 (excluding taxes and shipping and handling). In this case to get free shipping you will not need any promotional code required. Free shipping is only viable for orders that are shipped within the continental U.S. For orders totaling less than $60, there is Standard shipping available and that's for $5. Upgrades to express and overnight shipping are available for an additional charge.

Francesca's Shipping Restrictions
This most loved boutique does not ship to the following destinations:
Customers Can Return Online Orders in Boutique or By Mail
In Boutique Returns: all of the online orders can be exchanged or returned from any of their physical boutiques. Customer can get full refund or if they wish, so they can exchange already purchased item with a any of the products available at boutique
Return For Refund By Mail: Customers can use the return label which they got with their order while returning goods for a refund. But remember the store will refund amount to your original payment method but deducting the amount $5.00.
Returns for Exchange By Mail: Francesca's offer free exchange. Customer will only need to return goods using the returning label and the store will send back the exchanged items.
Payment Options Supported By Francesca's
Online customers have variety of options to make payment with ease. Francesca's accepts the following payment methods:
Customers can also shop using Gift Cards
Francesca's Reviews—Positive and Negative Aspects of this Online Boutique
Pros
Their products are unique, trendy, and affordable
Perfect place for young girls to shop and meet fashion needs
True to size clothing and jewel
Best place to purchase occasional gifts
Francesca's apparel section filled with limited number of editions for a specific item, which means every other person won't be wearing it and you will stand out wearing their pieces
Order Tracking service is available
They are frequent with great discount sales
Cons
You can't cancel or modify your order once its processed
Customer will need to pay for returning goods
Usually they don't restock the item once it's get out of stock

Review of Basic Information About Francesca's
Contact Number: 1.800.980.1180
Address: Frncesca's Guest Service, 8760 Clay Road, Houston, TX 77080
How to Message Francesca's?
On their Contact Us page, you can send them message by filling a basic form
You can also do Live Chat with their customer service representative
Review of Francesca's Customers—Let's Dig What They Are Saying!
YUP! She is totally right, just signup at Francesca's or subscribe us for latest saving offers and to have alerts when sales are UP!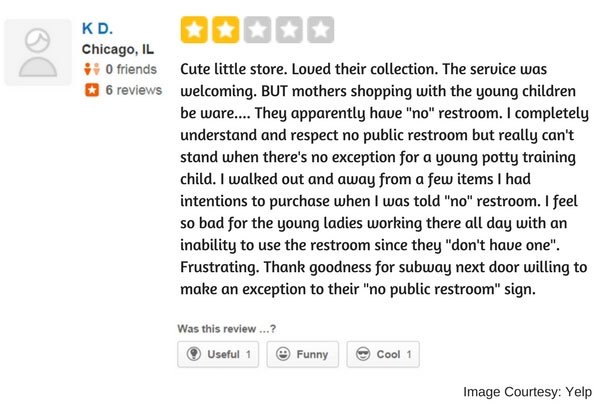 So the ultimate way to shop amazing collection is to do it by sitting on your couch. Yes, we are talking about online shopping that gives you great discounts too!
Great variety of products with super-helping customer service is the perfect combo one can wish for while shopping online. So, nab the best of their discounts and have bombastic shopping-experience.
Again we can say that if you don't want to lose the chance of having these fun accessories and beautiful items than purchase them online and have great additional items in your wardrobe and home as they also have great home décor.
WORD!
As we have given Final ratings of 4.3 stars to Francesca's, it's an evident of the fact that it's a nice place to shop. Whereas, there are still some aspects where this boutique needs to do bit of hard work, such as: improve the size range of their clothing, have ample variety of each design so the loveliest pieces won't go out of stock really soon. International customers would also love to shop online at Francesca's, so hopefully they will soon start delivery their products to worldwide.
Arguably all the products are well designed and are of great quality, but they are more of a girly-type. We wish to see some mature designing from Francesca's, so the office-going ladies and other 35+ fashionistas can also get chance to style in beautifully designed clothing of Francesca's.
So, when you shop at this boutique, don't forget to share your review for Francesca's in the comment section below to help other community members of ClothingRIC.
Published On: June 13, 2017

↑