Shopping Guides & Articles
Visit these Stores! If you want Fashion Picks from Christmas Clearance
We know you had enough time being part of the crowd during holiday sales. Have you stacked your wardrobe with all season's fashion essentials? Good! If not, then the goodness of discount hasn't ended. Let us share with you the Christmas Clearance Sale from Industry's top retailers.
JCPenney Clearance Deals


For men, women, home and everyone JCPenney is announcing a sale that is all fruits. Shop for $10 and get $10 off , $20 get $20 off or $50 to get $50 off. The coupons will be available from Dec 26 to Dec 28. The store is also making available the list of nearest stores as soon as you provide your zip code. The coupons will be given away at the store. If you visit the store, coupons are being emailed to the account you may enter.
Find more
JCPenney discounts and coupons codes
on one of our store pages.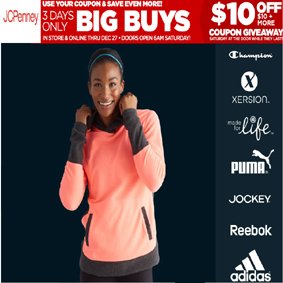 Macy's
Probably the very last seconds of greatest sales of the year have ended too. In your mind only!! Because, Macy's is still offering goods with
supe-duper extra discounts
. Through Dec-26 and next day, you can get 70% off on jewelry, free beauty gifts, up to 65% off on men's clothing and women boots for extra ordinarily low prices. The store is offering free shipping too just for spending of $25.

Kohl's
After Christmas discounts will take away up to 70% off the price. Their online sales will last longer and you may visit these coupons on our store page. At store, the sale will only live until 1:00pm. Online sale comes with extended hours and will last until 3:00pm on Saturday. From Early Bird Sale you can get sleepwear, Dress and casual boots, throws and outerwear.
As for After Christmas Sale, it will last until Dec-30. Lots of codes offering from 10% to 80% off on Kohl's diverse product range. Do you know these codes already? Find them
here
.
Visit this page again, we might update it after discovering another offer.
Published On: December 26, 2015

↑