Shopping Guides & Articles
9 Tips To Look Your Best On Valentine
Valentine's Day is a significant occasion as it provides you the chance to takeout time from day to day hectic schedule and devotes yourself to your loved ones. This day is perfected by the strenuous detailing from restaurants to bistros, brunch to dinner, gifts and finally what to wear. It can be very arduous to organize all the activities and to top it off with what to wear? And ensuring that the selected apparel will make you look more attractive on the V-day particularly can be infuriating. Even if you aren't the biggest fan of celebrating this Hallmark holiday still you will be going out with friends, family and beau. To save you from the extraneous task which eats up your days going in out of stores we have pooled the best tips by pros how to shop the perfect dress for Valentine while saving your money with
coupon codes
.
Dress according to area and time
While shopping for the apparel, scrutinize your setting; have you set your date in more casual daytime? Or an
evening-out dresses
? You don't want trip in your jimmy choo while strutting parks either you don't want to ruin your best pair of sneaker in sand. Frilly and floral skirts paired up with blouses and casual jeans are best for an out-door setting. They can be twined with spiral sandals, ballerinas, cute pumps, sneakers and toms. The low-cut dresses, wrapped dresses and evening gowns pared with closed sole
shoes and high-heeled pumps for valentine day
are more apt for proper dinner in evenings.
Selecting the dress
Valentine's day screams red and pink however covering in red and pink outfits can make you look a tad more enthusiast, with keeping these tips in mind you can purchase the
best dress
according to the scenery, which will guarantee you appear exquisite.
Show some skin
Showing little bit of skin
is alluring. Selecting sleeve-less blouse, evening wrap dress or calf-length skirt will make you look more youthful plus attractive.But remember here the key word is some. Wearing too short dress and baring your cleavage will come off as sleazy "to look sexy a sneak peak is better than a strip tease". Whereas collared shirts, turtleneck and baggy shirts of maximum coverage give stay away signals.
Fight the tight
To give the impression sexy you don't have to wear skimpy and skin tight garbs. Remember your aim is to look sensual not provocative. Super tight clothes make you look a stuffed sausage which is exactly not appealing. Your dress should be tailored and properly fitted, as baggy and ill-fitted dresses indicate the person as haggard and sloppy. Soft and light fabrics such as like silk and chiffon flows over your figure, it flatters and accentuate your shape without giving away too much.
Incorporate the unusual
Adding different materials other than silk and chiffon such as leather signals raw-edge, passion and excitement but don't wear it from head to toe! Colored leather including tan and brown beside black worn over feminine floral dress is flirty and sexy. Beside floral different patterns can transform the look into something more trendy and chic like polka dots, tiger strips and checks. If you are not comfortable wearing cheetah print blouse try to incorporate it in your scarf, bag or sandals.
Shine and sparkles
A little shine and sparkles add oomph and gives pricey appearance to your outfit. Sequined or embellished blouse, embroidered patch on skirt or jeans, studs on jackets or studded clutch will take your apparel to new height of sass.
Accessories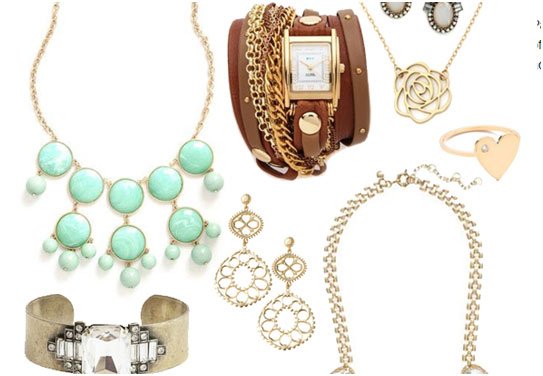 Any casual dress can be spiced up with the addition of some
jewelry & accessorize
. Twinkling earrings, crystal pendants, gold bracelets, few iridescent rings will make you look more feminine and magnificent. However do not wear all at once; it can be overwhelming and jangling of clunky jewelry will distract your beau away from your get-up and conversation.
Smokey Eye/Red Lip
If you want to take your look to next level, add on some makeup. As we all know that eyes are the window to the soul, try to create a smoky eye. A dark Kohl liner with some smudging will add a little mystery to your look but keep the rest of your makeup, lips and cheek subtle. If you think you are not very skilled to handle smoky eye and have a habit of rubbing your eyes every now and then, then keep your eyes simple and give edge to your appearance by putting on red lipstick. It looks very bold and passionate and goes in theme with Valentine's Day.
Slip on Extra Layer
By adding extra layer we mean a delicate pastel cashmere sweater or a solid colored over-coat.It makes you look more
put-together and well-groomed
.
I hope this tips will make your shopping easy and help to achieve your desired look to make you look you very best on this Valentine's Day! Also keep your eyes on exclusive
sale and discount codes
offered for Valentine's Day.
Published On: February 08, 2018

Latest Articles
Popular Articles
New Trending Discount
↑