Shopping Guides & Articles
How Mobile Coupons are Boosting Sales
The never-ending journey of coupons have come this far that from clipping from the newspapers they are now all digital – they are in your phones. They're more targeted and they are focused on influencing a consumer's purchasing journey to their brand loyalty. As per
Orian research
, the mobile coupon industry is expected to bloom by
56.5% by 2025
. Digital coupons are already on the rise, due to not one but several reasons. In comparison to traditional coupons, e-coupons make the coupon collection process a lot easier.
Now digital coupons can be fetched through one's personal computer or mobile phone. Currently, coupons that are sent to a brand's target audience's cellphone via personal messages or through other online sources such as apps are much preferred.
Juniper research reveals that by 2022, 88% of coupons will be redeemed through cellular devices. The reason behind the popularity of coupons via this medium is simple - people don't have to clip coupons. This makes mobile coupons convenient. What's more, mobile coupons are easily accessible as well as hard to ignore since people are habitual of checking their messages and social accounts via their handheld devices.
Overall, coupons are popular among customers with 96% of consumers in the US using them. Zooming into mobile coupons, 91% of people prefer them. Apart from SMS and social media, mobile coupons can also be collected from apps which is a technique preferred by 30 million Americans.
Mobile coupons are on the rise
The number of mobile coupon users this year in 2019 is 1.05 billion. This is massive growth, seeing that in 2014 the number of mobile coupon users was 560 million.
With 74% of the population having a mobile phone and Americans spending 4.7 hours on average per day on the device, of course, it is hard to ignore coupons sent via message or popping up on social media networks. People love bargains mainly because they help them save.
Marketers are also increasingly tapping into the potential of mobile coupons as mobile ads are becoming more popular a concept and the best way to get a customer to notice an ad is by putting up a coupon in it. After all, stats show that 55% of US adults are willingly viewing ads to get coupons. Mobile coupons are also convenient for marketers since they are less costly than print coupons and their marketing is less technical and more far-reaching as well.
What type of people prefers mobile coupons?
If you have a smartphone, it's more than likely that you've searched for deals and promotions on it. Persia's marketing director,
Kate Atty said
, "In 2015, nearly all mobile users searched for coupons on their phone."
Looking at more stats, 57% of the mums who own smartphones use mobile coupons every time they make a purchase. Of all the generations, millennials use mobile coupons the most. What's more, 54% of vacation travelers make use of coupons.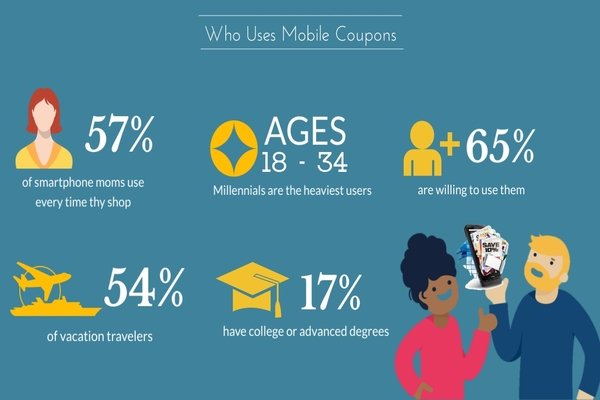 It is also important to note here that deals are loved by the affluent too. Just because someone has lots of bucks in the bank doesn't mean that he doesn't enjoy a good deal. In fact, households with an income of $200,000 used plus 6 coupons in the last 3 months whereas the average household with an annual income of $105,000 also uses mobile coupons.
Moreover,
17% of the people
who have college or advanced degrees make use of mobile coupons too. This shows that educated people also prefer discounts through many stores like
By Humankind discount code
.
Coupons are more about than just making savings
When you have a coupon, you can save money. For instance, with
Boxraw discount code
or with
Gobi Cashmere discount code
, you can purchase items at slashed down prices for which without a coupon code, you'd have to pay the full price. But, that's not all that coupon code does. In fact, people use coupons for other reasons as well.
80% of people use coupons because doing so makes them feel smarter, 10% do so because they like the challenge of searching for deals. Furthermore, 60% of people prefer coupon usage because they feel like they've won a price and 81% of people just do so because they find it fun. Also, 82% of shoppers tend to redeem a digital coupon within a week or less whereas there are 30% of shoppers who redeem a digital coupon just within 24 hours.
As for why people prefer mobile coupons that is because those are convenient, less forgettable, eco-friendly, and just simpler. You see, in the case of phone coupons, you don't keep the coupon ticket in a drawer and forget neither do you have to clip or throw papers here and there. This makes mobile coupons environment-friendly as paper doesn't go to waste. Also, you can use them as and when you find them. You received a coupon, you visit the corresponding website, make the purchase, use the code and the discount is applied. It is that simple!
Why marketers prefer mobile coupons more
Offering Coupons is a great tactic for marketers to get more customers. Coupons entice customers which allow even new brands to reach more people. After all, a survey by
RetailMeNot
reveals that
80%,
which is a huge chunk, of customers say that they are willing to try a new brand that they haven't done so before if they are being
offered a coupon
.
ReadyCloud reports that 48% of companies in the US employ mobile coupons as a marketing strategy. You see, apart from brand awareness, coupons also drive customer loyalty. They encourage people to stay onboard. Once a customer tries a product because of being offered with a coupon, he's likely to buy from the same retailer again if he is satisfied.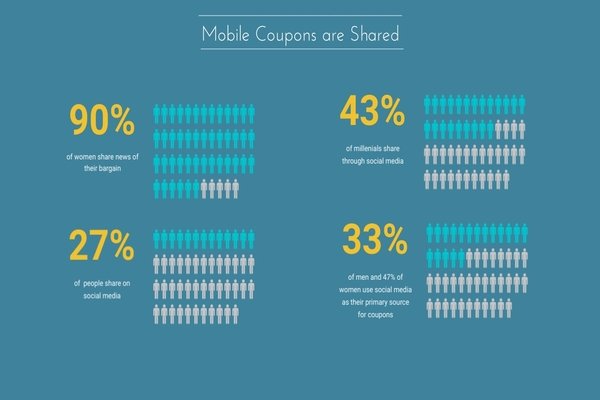 Moreover, exclusive coupons to loyal customers are also a great way to keep customers hooked. Mobile coupons are also a preferred tool by marketers because they spread the word. As per coupon insights, 90% of women share that they got a bargain via a mobile coupon.
Millennials, 43% of them, spread the news of
getting a coupon
through social channels, while overall
27% of people
do so. Hunting coupons via social media, is in fact, pretty common with
33% of men doing it and 47% of women
. Therefore, mobile coupons are shareable which is another great quality about them.
Key takeaway
Coupons are a favorite of customers for many reasons. It's not just they allow for savings but also that they spark joy, make people feel smarter, and make them feel like they've won something. 68% of the customers agree that digital coupons help build brand awareness and they feel more inclined towards shopping when they see a coupon. Therefore, digital coupons are on the rise and the sub-category of mobile coupons is topping.
Coupons increase profits, sales, customer loyalty, and brand awareness
among meeting other goals.
Mobile coupons, in particular, are delivered via SMS, apps, and other techniques. Marketers are also tapping into the potential of mobile coupons by incorporating them into ads and offering them on social media. After all, social media coupons have a high shareability chance which means more people get to know about the brand.
Published On: January 10, 2021

Latest Articles
Popular Articles
Featured Stores
Popular Discount
New Trending Discount
↑