Shopping Guides & Articles
#2021SavingChallenge -12 Money Saving Challenges For 12 Months
All wise people have one thing in common - they save money. But not everyone who aims to save succeeds at it. Why? Well, one reason that stands behind this is that most people don't have a plan.
If you are also among such peeps, then don't worry. We've got your back with our 2021 12-month saving challenge. By setting up savings goals for the next 12 months, our plan can help you save up to $2,020 by the end of this year. Want to know the steps? Read on.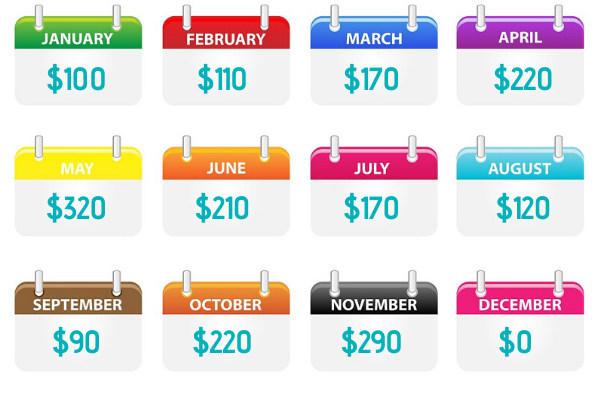 1 - Save $100 in January
Let's start with the easiest way you can save money - putting some cash in an envelope and then not opening it until the end of the year. To keep the burden low, consider saving weekly in the first month of the year.
For instance, save $25 in each of the four weeks of January. Yes, we know that January covers five weeks, but you can let this first week be to just chill out and then get to your savings plan. This way you will be able to save $100 in one go.
You can take the amount you save from your pocket money, reducing your expenses in the shopping department or by not eating out that much. Whatever works for you. Keep in mind that the $25 that you save weekly shouldn't be coming out from your savings account but rather from your expenditure. You can save a significant amount of money while shopping through
Apposta Coupon Codes
.
2 - Save $110 in February
Say no to sweetened beverages in Feb. In fact, apart from water and tea, cut out most of the drinks that you are addicted to including alcohol. Firstly, you will easily be saving $110 this way minimum. Along with this, you will be doing your health a favor as well.
You see, drinks like juices, even freshly squeezed ones, soft drinks like Cola, and alcohol are not good for your health. They not only raise your blood sugar markers, but they also give you empty calories. You put on weight and crave more food too. As for shopping clothing items, I'd recommend you use discount codes from stores like The Drop. With up to
80% off on The Drop
streetwear, you should save quite a bit.
So, cutting these beverages out of your routine will only help you. If you don't think you can stick to the goal for February easily because of your addiction to drinks, try following the challenge with some reliable friend.
3 - Save $170 in March
Following these two goals, it's time to save on grocery shopping. In March, your aim should be to collect as many coupons as you can so you can stock your groceries by spending fewer bucks. Since
coupons have evolved
a great deal and are now easily accessible online, using them doesn't take much effort. Furthermore, other than using coupons, check out deals and consider buying organic.
If you're able to get some item at a better price online, shop from there. Cut out any grocery items that are not too important. Keep in mind that for the sake of using all your voucher codes, don't spend more than you usually do. That would kill the purpose.
Calculate the value you'd get - for instance if a normally $8 box of spices can bring two of each sachet for $12, get it. You can use the extra packets next month and save $4. But don't buy a deal of two ketchups of different flavors for a better price if you're only going to use one and a single bottle of it would cost you less.
4 - Save $220 in April
Now that you are on the track of saving money, it's time to save some on food. In the fourth month of the year, don't go outside to have your lunch, dinner, and brunch or even a single hangout plan. Eat home-cooked meals instead.
If you're very tempted to eat out, consider using vouchers when going out with someone who can pool in money to share the meal with you.
Stats from 2017
show that Americans spend $232 on eating outside of their home.
So, you will at least be able to save $220 in April by means of sticking to home-cooked meals. Not only will you be saving money but fighting your habit of eating out as well. Processed meals from outlets are not healthy at all as it is.
5 - Save $320 in May
As per CNNMoney's 2011 report, the average person spends more than $320 on gasoline. Clearly, there is an opportunity to save here. If you are an office goer, consider not going in your own vehicle and don't even take public transport unless necessary.
You can instead walk your way to work or cycle. This way you will be able to burn calories as well as save a lot of money. Adding more physical activity to your routine is very good for your health - it strengthens your bones, supports cardiovascular health, as well as clears as your mind of stress.
By only walking for one month, you may get convinced of completely choosing walking or cycling over driving your way to work.
6 - Save $210 in June
If you are thinking of ways to save, one great way to do is by spending less on your summer vacation travel expenses. You can easily save a good amount in June by taking a staycation rather than a vacation.
On average, an American spends $1,979 on summer vacation. You can save a major chunk of this money by not traveling. In fact, even if you are a staycation-er, set your goal to spend less this year than you normally do by means of availing only free entertainment options.
If you have noting to save, take a small job and keep that money in your savings box. You will at least be able to save $210 if you are determined enough by either getting a part-time gig or spending extremely minimal on your vacation.
7 - Save $170 in July
In July, save your money by packing your lunch at home. This way you will easily be able to save at least $20 every week by not entering coins in the vending machine at your office or college. Plus, you will also save money from not eating at the canteen.
From whatever amount you are able to save per week, the total should be minimum $170 by the end of the month. Again, in case you have a hard time abiding by this goal, consider asking your work buddies to follow it with you. Whether you're teaming up with a buddy or
teaching your kids how to save
–it's good to have someone at your side while making money decisions.
Reducing expenditure at canteens and vending machines will also help your health as you'd be eating home-cooked food.
8 - Save $120 in August
In the eighth month of the year, don't spend at all on non-essentials. What things are included in this you ask? Non-essentials include costs of entertainment, clothing, shoes, and the like. You can repeat your clothes from the summers or mix and match to create better outfits.
For entertainment, rather than going to the cinema, choose free avenues. For instance, you can go to the park. Or the free beachside local music festival. This way, your mind will stay fresh and your wallet won't be burdened.
At best, you will be able to save a good amount. A minimum of $120 can be saved this way in August. If there is a dire need to spend on a non-essential, make
use of coupons
.
9 - Save $90 in September
Who watches television anymore? Sure, many still do but most people find whatever they want to watch on subscription services like Netflix and Hulu. If they want to keep up with news, they read news for free on the internet.
Moreover, there is YouTube for watching anything and everything as well. So, in September cancel your cable. Most people spend from $90 to $150 on cable. This means by cutting cable you should save at least $90 in September.
You can get cable back the next month if this setting doesn't suit you provided doing so doesn't add up to next month's bills more than the previous months. Otherwise, stick to the no-cable mantra and save money.
10 - Save $220 in October
In October, make it your moto to go a step further and cancel all the memberships and subscriptions that you are not using anyway. This means, cancel out that gym membership which you have not been making the most of and exercise at home.
Cancel out the services you have paid for on your phone, such as an SMS billing summary service. Stop paying for app features that you don't use. Don't pay for reading news or articles online and cancel out those services too.
You will easily be able to replace all these chargeable services with free options. This way, you may be able to store $220 rather than spend it.
11 - Save $290 in November
November should be a month of mega savings since you are moving toward the end of the year. You will need to chalk out an elaborate plan on how you can save in November. To help you out, here's a plan - sell any three big items, such as furniture pieces no more in use this month.
Of the money you get, spend some and save some. For instance, of the money you get from two of the smaller pieces you sell, go for Christmas gift shopping on Black Friday and Cyber Monday. You will get the best deals and you'll save yourself from the headache of shopping in December. Many brands offer great deals on these days. You can grab one by using
Belle & Bloom coupon codes
.
This way, you will be able to save quite a good amount toward the end of the year and completely lead stress-free holidays the next month.
12 - Save $0 in December
You'd have worked hard all year reaching a new savings goal every month. While it is all easy to say, sticking will the plan requires bundles of determination. So, in December you deserve a break. You've shopped for the holidays and you've saved enough to spend on what you've saved for.
Since you've done a good job, you also deserve a good reward. However, make sure the reward is not bigger than your savings and is, in fact, hardly even a fraction of them. If you're planning a trip this month, make sure to purchase the travel clothes with
Butter Cloth Discount Codes
. Just because the year is coming to an end, you shouldn't be letting go of your saving habits.
Remember to stay money-savvy though and only buy your reward from the clearance sales that are bound to run as the curtains close on the year.
Follow the challenge and get a reward from us to you!
12 Months Money Saving Challenges
January
$100
February
$111
March
$170
April
$220
May
$320
June
$210
July
$170
August
$120
September
$90
October
$220
November
$290
December
$0
Total Saved
$2021
So, are you up for saving up to $1,860 or more in 2021? If so, tell us about your monthly progress. You can go about this by bookmarking this article and telling us how much you save at the end of every month. Talk to us via the comments' section and keep us updated. Use #2021SavingChallenge.
We'll be tweeting about your achievements at the end of the month. By talking about your monthly progress and saving a good amount you get a chance to win gifts from
ClothingRIC
! What are you waiting for then? Get started!
Published On: January 06, 2020

Latest Articles
Popular Articles
Featured Stores
Popular Discount
New Trending Discount
↑