Shopping Guides & Articles
Love To Buy More For Less? Forever 21 Will Make You Smile, Once Again
If we'd be asked to name one brand that is heading straight in the direction of enhancing fashion facility for its consumers, Forever 21 will be our candid choice. Facilitating different demographics, the brand has serious drive which fashionistas with goals in life should not miss. If you have been mesmerized by their New York fashion shoots that featured
Alana Zimmer
,
Baylee
and
Kelsey Soles
and more stunning models, it is not just one thing happening at the store.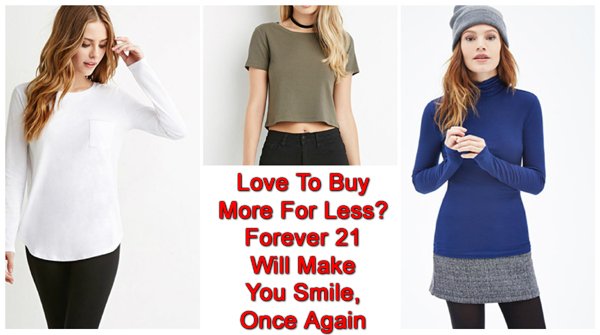 There is more. Your #frugalfashion cravings will be satisfied by visiting this new section by the brand. The 100 Tops Under $10 is a revolutionary offer by the brand proves that while the brand is pitching for a new class
(celebrities)
to embrace the brand, it has not left side of its frugal consumers.
In a variety of 100 tops, there may be found satisfying number of designs. The collection includes: tanks, tees, longline tees, crop tops, graphic tops, gym wear, body suit and what not. You can guess that under $10, what's available is not just cheap gym wear. These fashion articles, may in fact be used everywhere from gym to party or official meeting.
Need more inspiration to avail this fashion opportunity? Enter this high value collection now.
Published On: September 16, 2015

↑