Shopping Guides & Articles
Complete Style Guide for the Groom on his Big Day
Brides
work tirelessly to make themselves look charismatic and jaw-breaking on their wedding day while on the other hand, grooms are supposed to be spending a mammoth amount of dollars and taking charge of all types of responsibilities on the big day. They mostly
dress up increased
white shirt
and disheveled attire. Undoubtedly, this is pretty unfair to the groom.
In condolences with the injustice to the grooms (might be hilarious for the brides), this blog will walk through all the guides from head to toe for bringing some thrill on his special day by providing sufficient guidance for becoming perfectly suited and booted on his knot tying day.
How to decide your splendid and impeccable attire for the wedding day.
Figure out the budget first
Budget is the most vital element when organizing any type of event. Wedding budget has to be wisely figured out so that equal share can be allocated to all types of activities. The groom must coordinate with his family and bride to draw an accurate budget. This pre-budget setup negates extravagances and mishap of omission of tasks from the to-do list. This budgeting includes breakdowns of venue, catering services, photography, decor, attire, music systems, and invitations.
Dress according to the theme and venue
Envision those fancy themes which enhance the beauty of both partners. Contact wedding planners to distinctly and beauteously implement themes like vintage, filmy, fairy-tale, or artistic. Colors and patterns will further embellish the theme by giving a meaningful and spectacular vision. A complimentary venue will increasingly magnify the beauty of the theme. The horizons of wedding locations have widened for the last few years ranging from banquets to customized parks.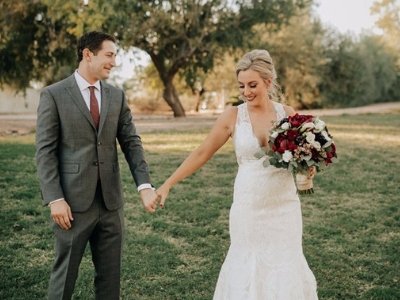 Choose the apparel which compliments your skin color
Choosing a dress according to the skin color is as important as buying an accurate size of attire. White and Ivory are considered as the decent and all-to-go colors for the groom but that is just the start. Have a skin tone spectrum test and choose accordingly. The power of color can never be underestimated. A fair looking man will definitely look smart in a yellowish ivory suit. Certain colors make one look paler and messy like dark creamy. Neutral colors give a decent and loyal look on the groom like grey and white. Look for creamier toned dresses if the skin tone is tanned or muddy. Dark skin man can go with a number of colors as their skin compliments all. Traditional fabric with white apparels is trending nowadays. Wearing wedding attires according to the skin color commends the personality.
It helps in enhancing facial looks. Citing a famous online website of groom dresses collection
topman
, it serves with affordable, fashionable, decent, and high-quality dresses. Trendy and latest collections include suits, jackets, and waistcoats. Manipulation of the dresses with the skin color gives an aesthetic, alluring, and friendly look.
Synchronize the dressing with the bride and guests
To make the day more charismatic and ravishing, ask the guests to follow the dress code or dress color. However, there should be a color match of apparels of the bride and groom to make them look distinct. This color can be darker or lighter than the dress code color.
Having a perfect dress code with matching colors of partners, guests, and venue, the marriage becomes memorable and a living dream.
Never underestimate the power of shoes in making you look good
How can a groom ignore the trendy and contemporary shoes of nowadays? By wearing shoes according to their personality, grooms have a chance to show off their style and creativity through the modish and vogue footwear choices. Shoes are a basic accessory for the gentleman as it helps in magnifying his style and enhancing his charismatic outfit.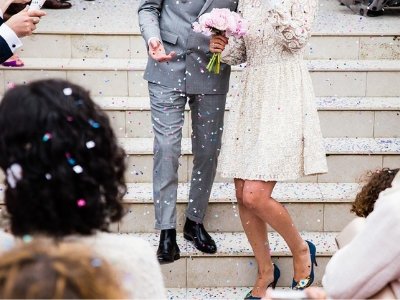 If a groom reading this is planning to shop shoes for his big day then it is the right time to avail the opportunity. He can head up to
beggshoes
. This store serves with most vogue loafers, casual shoes, and boots of famous brands like Timberland and Clarks.
Embellish yourself
Add some mesmerizing accessories in your look to sparkle yourself into a perfect handsome gentleman. Colorful ties, patterned pocket squares, and witty accessories like cufflinks can give a dapper look to the groom.
Watch
Among these, watch plays a vital role in giving a modish and stylish look. A gentleman look is incomplete without the addition of wearing a watch. If a groom plans to shop from
Tommy Hilfiger, Garmin, and Bulova
, then pay a visit to
hsjohnson
, where he can find
100 % original
and high-quality products like watches and shoes.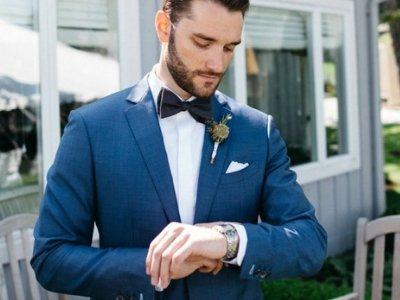 Socks
A soon-to-be groom can find the latest watches, socks, and ties at
happysocks
. This website is currently serving with sales offers and free shipping. Simple and decent unicolor socks magnify the beauty of elegant shoes.
Boutonnieres
It is a sign of pure love of the bride and groom. The fresh and ravishing flowers symbolize love for the bride and marriage. This practice of wearing boutonnieres has almost faded away but anything can come into the trend anytime. Let the type and color of flowers match the flower basket of the bride and venue decoration.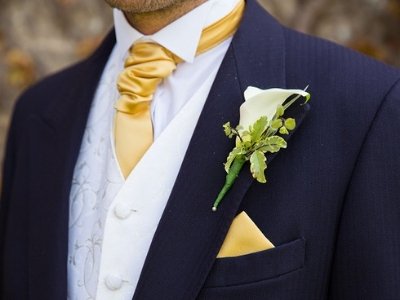 Bow Tie
A groom can go for different type of ties according to his dressing and physique. Most trendy and vogue types of ties are bow ties, skinny tie, under-the-shirt tie, and above-the-shirt tie. The casualness of the fixed shirt and loose tie complement each other heavily.
Cufflinks
Cufflinks can be presented to the groom by the bride as a token for their love on their big. The shapes of cufflinks are changed to different complex structures like round cufflinks, square cufflinks, geometric cufflinks, or T-back cufflinks. All these adornments beautify the groom much and more.
Cummerbund and vest
Most of the grooms have suspended the idea of wearing cummerbund nowadays considering it as an old-fashioned style. However, cummerbund makes the groom look slim, attractive, and cool. Basic, synergy, vertical, vintage and patterned types of cummerbund are in the fashion nowadays. On the other hand, designers are launching attractive vest suits for the grooms.
If the groom really wants to stand out, have him in a refined Vest coat, the vest coat is a sartorial savior, its flawless structure and clean lines praise the masculine outline. While the groomsmen wear cummerbunds. If they are all wearing vest coats, make sure it is of a brighter color than the rest, or that it is highly patterned while the groomsmen wear plain ones.
Suspenders
Suspenders look ravishing on vintage, hipster, casual, coastal, and Hollywood glam wedding types. It makes the groom look more modish and stylish.
Go for a classy hairstyles
Buzz and Slicked back hair are the most wearable and formal hairstyles of grooms. Always go for wearing a hairstyle that will make the groom look matured and modish. Undeniably, undercuts in the hairstyle make the groom called as the "groom of the year". According to the choice, one can get styled with low, medium or high fades.
The comb-over is the most vintage and iconic style for grooms. Wax can be used to flatten it out to give a slight volume.
Tip: Try to settle your hair with your hands rather than a bristle brush.
What about the facial look?
Common and trendy shaving styles for grooms are a square beard, round beard, short boxed, anchor beard, and chin strip. Beard gives a different look by changing a baby faced bridegrooms to a mature bushy guy. Invest in your face prior to the wedding to have flawless look by the end. A clean shave is the easiest to carry as it is timeless.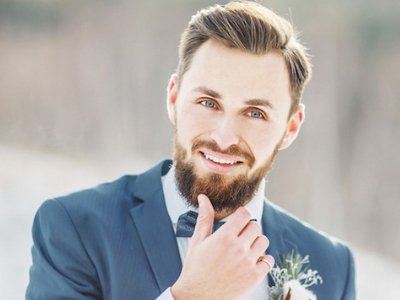 The stubble look is also a cool and fancy way to display the hair as it is naturally settled and collected. Either way, sporting all kinds of shaves and beards look cool and attractive on the groom. He can look handsome and jaw-dropping in a low maintenance look too.
Tip: Shave before taking shower as it lessens the shower caused after shaving.
Just a final touch-up
At last, the fragrances play dramatically to attract people towards the groom. Colognes or perfumes save the groom from smelling repugnant by continuously throwing sequences of sweet smells. Try Versace Man or Jimmy Choo Man perfumes. According to many quests, grooms mostly adore the aroma of freshness or a memorable scent. Guerlain quoted, "The ideal man is a myth. His fragrance, a reality !"
Published On: February 26, 2019

Latest Articles
Popular Articles
Featured Stores
Popular Discount
New Trending Discount
↑