Shopping Guides & Articles
Wandrd Duo Daypack | Photographers, Travelers, Vloggers All Recommend This Bag
Last year, my friends and I went on our first trip to Europe. We travelled through the continent and explored remarkable cities and historic monuments. To be clichéd, it was an unforgettable experience.
The steady waters of Venice, the gothic architecture of The Hague and the historic castles of Prague, were all too captivating.
Witnessing all the scenery, I felt like taking a snapshot after every minute or two. There were monuments and beautiful landscapes there were just asking to be captured on camera.
But there was one problem: My camera was smashed into bits.
Yes. Before the trip, I had spent around $100 on a Canon DSLR, which got damaged in the luggage a day after we arrived.
It turns out that if you're planning to immortalize a visit with photography, it's vital to have you an appropriate bag. So anyways, here I am writing a WANDRD DUO Daypack review, because I don't plan to make the same mistake twice.
WANDRD to the Rescue
WANDRD was born on Kickstarter, as the brand would proudly admit. In fact, this travel bag startup has utilized crowdsourcing to perfection- raising millions of dollars from thousands of backers.
But WANDRD doesn't let its funders down. It continues to provide innovative solutions to travelers, photographers and vloggers alike. It's newest offering, DUO Daypack is an absolute winner.
As I plan for another excursion –this time to East Asia -I am taking this bag with me. It costs me around $186, the actual price is $219 but I used a
WANDRD coupon code
to get a 15% discount.
Here's why I have picked DUO Daypack ahead of others.
Truly a Multipurpose bag
I did a ton of research before reaching my final decision. While I was scouring through the internet, I looked for any recommendations I could find. I read multiple WANDRD DUO Daypack reviews from travelers, vloggers and photography will all praising this bag for its many functionalities.
So what makes it so special? To start, the chief feature of this bag accessibility. With top access, internal access and dual side access, DUO provides unbelievable utility. It does not matter if you need to quickly grab the camera, take your laptop out or check your gear, everything can be done with the utmost ease.
It gets better. WANDRD's new product has features such as the POP cube that safeguards your vulnerable gear (something I could have used in Europe), a padded extension built for lenses as big as a 24-70mm zoom and adjustable dividers that allow custom organization.
It's a bit pricey, and while there's no WANDRD
student discount
available, one can always make do with a promo code.
All in all, this bag has everything a traveler could ask for and more.
Innovative Design
In typical WANDRD fashion, the company does not hold back while boasting about its new product.
"The DUO Daypack is a dawn-to-dusk, daily carrying beast that was tirelessly designed to go from work to play… to play to work… to work to work… to play to play… or whatever else you call your daily grinds, errands, and passions." It says on the
Kickstart page
that raised $655,287 and helped bring DUO Daypack to life.
This bag is designed by young entrepreneurs, who are aware of the ever-evolving needs of modern-day travelers. And perhaps this why every WANDRD DUO Daypack review has high praises for the product.
Features Review
DUO Daypack's interior and exterior is packed with features that many content creators would find extremely useful.
Here's a preview of what you will get with WANDRD's new product.
Interior
•
Padded center-mounted pockets for equipment that needs extra protection
•
A range of mesh, elastic and zippered pockets
•
Utility collapsible protective cube
•
Foam divider insert to separate gear
•
In-built cable organizer
•
Laptop and tablet sleeve
Exterior
•
YKK water repellent zipper
•
Water resistant fabric construction
•
Zipper orientation that allows easy access
•
Foam back panel for ventilation
•
Adjustable sternum strap
•
8 anchor points for accessory straps for monopods, tripods
•
Expandable water bottle pocket
What Fits in DUO Daypack?
WANDRD describes this bag as an "organizational beast', an apt description considering it has room for a camera, 15-inch laptop, tablet, gym clothes, cords, glasses, water bottle and anything else you're packing for your travels.
Vloggers, photographers or frequent travelers, this bag works for all. And since it can be discounted with a WANDRD voucher, it's available for a reasonable price.
Easy on the Eyes
I would shamefully admit, I have a penchant for aesthetics. My photographing soul does not just appreciate the
beauty in landscapes
and architecture but also in things like clothes, furniture and yes - bags too.
Now, you may have noticed during this DUO Daypack review that this product doesn't have any artwork or stunning color combination. In contrast, it is a simple black leather bag. However, sometimes simplicity is beautiful. And regardless, who doesn't love the dark aura and mystique that black leather exudes?
What Else Does WANDRD Offer?
WANDRD is a store that's no less than a heaven for travels. The award-winning travel camera bag WANDRD PRVKE is a photographer's dream come to life. Due to its quick side camera access, it's perfect for vloggers who film around a city.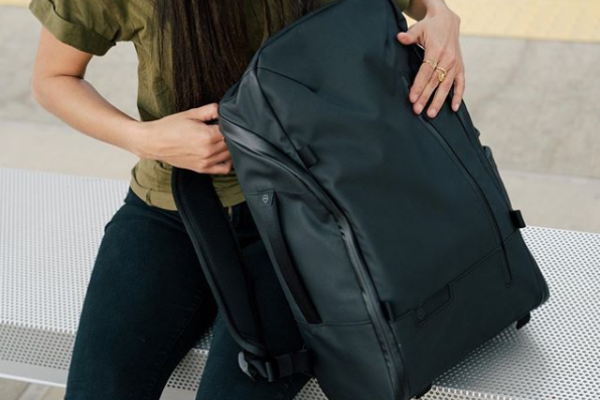 Meanwhile, the VEER 18L, a packable bag with the inflatable back panel and inflatable back is a beauty on its own. Finally, the WANDRD HEXAD Access Duffel is an organizational masterpiece with three separate compartments.
Conclusion
As I head up for my next big adventure, I will be accompanied by WANDRD's sleek new invention. It will be interesting to see how this bag holds up. But if the two weeks in which I've used DUO are any indication, my travels this time will seamless and trouble-free.
Published On: November 22, 2019

Latest Articles
Popular Articles
Featured Stores
Popular Discount
New Trending Discount
↑