Shopping Guides & Articles
Heated Jackets Are The Lifesaver For Winter Chilly Days
Winter is right here and are you worried about surviving the harsh climate again? Have you heard about heated jackets because these are perfect winter gift to keep yourself cozy and warm? I am going to tell you how to prepare for the winter with heated jackets and enjoy the blissful weather.
How heated jackets works?
Heated jackets are readily available at multiple stores throughout the world. It comes in different styles, shapes, features, and sizes for men and women. There are mainly three batteries in the jacket, two in the front and one in the back. These batteries are made of lithium ions powered by 20V. They are connected to a heating element which is safe and effective. The heater can be activated by user-friendly buttons. Otherwise, it could also be managed from remotes.
It contains base layers for maximum heat retention. They are closest to the skin so produce est noticeable heating effects.
Key features of heated jackets
Jackets have the option of adjusting the temperature according to the need. The heating element contains a built-in LED which shows the level of temperature like high, medium, and low.
The battery time of the jackets varies from type to type. The minimum battery life is 10 to 12 hours.
The exteriors shell of the jackets is made of heat resistant fabric to keep you warm and reduce heat losses.
Zipper and non-zipper jackets available according to the comfort and style choices.
The best part is that they are water-proof and wind-resistant. You don't have to worry about the battery on rainy and snowy days.
The working temperature ranges from 86-122°F.
The heating circuitry contains carbon fiber heating elements in the chest and mid-back parts. These are an awesome invention as few jackets offer the USB port connected to the battery to charge your gadgets such as mobile phones, bank charger, and IPad.
It uses the FAR infrared and heat reflective technology to maintain the warmth and comfort.
It also comprises of built-in heating elements to provide versatility to the user.
Some of the jackets come with the option of multiple sizes batteries for urgent uses. These are preferable for mountain climbers, hikers, adventurers, and cross-country hiking.
All these key features highlight that preparing for the winter with heated jackets is a joyful part. Amazing, isn't it?
Benefits of heated jackets
Apart from winter warmth, these jackets are frequently used by construction workers and other people who work in harsh climate conditions. It protects them from winter injuries and health complications like hypothermia, frostbite, and cold stress. They can change the temperature of the jacket according to the weather conditions and activities.
It is an inexpensive way to keep yourself warm other than unsafe heaters.
It keeps your core body parts warm and cozy such as the neck, chest, waist, and back.
You can fit the battery of your own choice and are sold independently.
Available in sleek and appealing styles.
Many jackets come with detachable sleeves and adjustable insulators.
The main drawback of heated jacket is that it does not allow heating battery to work in the sleeves. The heating effect in the core jacket does not properly reach the sleeves which might make the wearer uncomfortable. He could use additional carbon fibers heating element for his sleeves.
Uses of heating jackets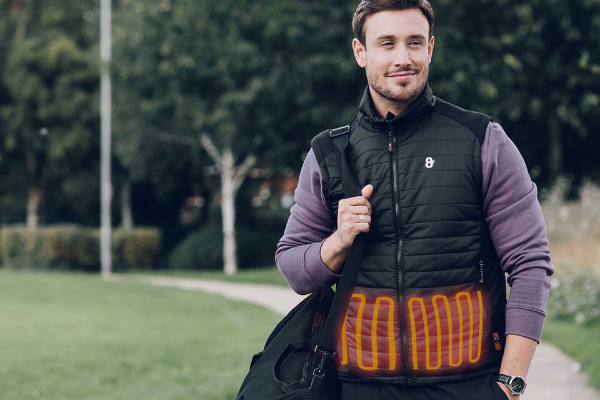 These heated jackets are intentionally as a counter for winter days. However, with the advancement in the technology, these heated apparels are being used for multiple outdoor activities like ice climbing, skiing, and snowshoeing. Number of sportsperson use it for sporting activities like downhill skiing, diving, motorcycling, and trekking. Athletes and gym freaks use for keeping their muscle warm and body active.
Some of the best brands of heating jackets
Ravean:
Ravean is one of the best brands of heated clothing. It manufactures quality-driven and functional jackets while offering additional insulation properties which keeps the jackets warm even when the battery power is off. Many of its snowshoeing jackets come with an integrated snow skirt to keep the snow power coming inside. You have the options of a compatible helmet too. The battery gets charged in less than 90 minutes because of the 12V adapter. You can get a discount on the jacket by using
Ravean promo codes
.
8kflexwarm:
Heated jackets by 8kflexwarm are stylish, versatile and serve multiple-purpose. Customers can adjust the temperature of the jackets through an app and also use it to charge their smartphones. Although these jackets may seem a bit pricey to some, they do offer great value for your money. Moreover, using an
8kflexwarm discount code
can give customers a reasonable discount.
The Warming Store:
When it comes to battery heated jackets, the Warming Store is one of the better options. With its chic and stylish shirts, jacket and vest -this store has an extraordinary collection of heated apparel.
The Warming Store 15% discount
ensures the items remain under the budget while customers get a taste of warm summer in the midst of a cold winter.
How to grab quality-driven heated jackets at discounted rates
Many stores are solely dedicated to selling heated apparel such as jackets, caps, socks, slippers, and more to mention. When winter is around the corner, they run discount campaigns to let everyone enjoy their deals. They run special 8k Flexwarm heated jackets promo codes to fasten their sales. All their coupon details are posted on their websites and social media platforms such as Facebook, Instagram, and Twitter. You can easily grab coupons for free delivery, 20% to 80% discounts, and off on future deals. Also, sign up for their email subscriptions because many brands offer special offers on the newsletter. Coupons offer vary from brand to brand such as cheap Ravean heated gloves are available in different offers in the market. In my opinion, before winter dials, search for cheap and quality brands of heated apparel and choose the best one such as save money with The Warming Store heated jackets.
Spending winters without a heated jacket can be a little risky. Buying a heated jacket can be worth investing as it is a long-lasting heated apparel which does not require maintenance often. Buy it, use it, wash it, charge it, and repeat. Prepare and add spark to your winter by these heated jackets.
Published On: December 17, 2019

Latest Articles
Popular Articles
Featured Stores
Popular Discount
New Trending Discount
↑