Shopping Guides & Articles
Latest wedding dresses trends 2014
Western Wedding Dress Style: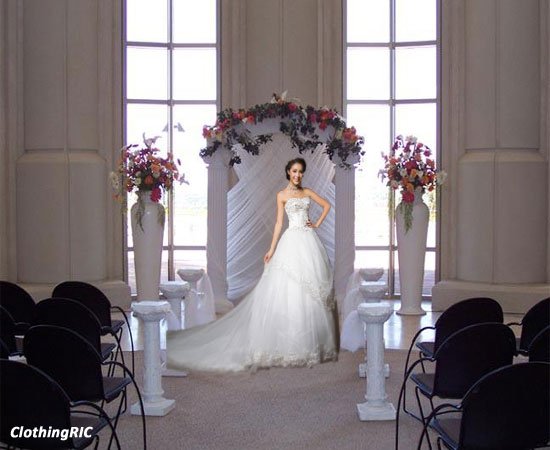 When wedding are being discussed, who can we miss to talk about the gorgeous flowy gowns, and the European style head covers and long lace sleeves. It looks like more of a princess wedding –
eastern style
of wedding dresses are getting even sexier as the days are passing by. The cuts and the styles are simply breathtaking and mind blowing.
Styles:
In 2014, you will see most of the designers focusing on the lace and crochet dresses with deep necks, both front and back. Lengths might be different and depends upon the bride, as many prefer wearing short lengths too. Mermaid cuts are back in fashion, but a bunch is still working on the traditional style, tails and flow appeal.
Colors:
Since ages white is the only color that a bride prefers to doll up with – however, now you can swap between colors that allure you. For example, fuchsia, peach tones, ivory tones and red shades are loved a lot.
Shoes:
High heels with lots of sequins and other stone work are demand of the season. Nothing can beat the appeal of those traditional, Cinderella heels on wedding.

Jewelry:
In western weddings, the idea of wearing jewelry has always been very simple. Brides prefer wearing simple necklace and small earrings. However, hair accessories like tiara of chains are in fashion these days. Tell your hair dresser to give you an exotic hairdo so that you can play around with it.
Last but not the least; overall look needs to be complimented with light, makeup and sexy European style bridal hat. That would simply flaunt your bridal style in a different way. Make sure you select everything that goes with the look. After all, you will be the showstopper.
Eastern Wedding Dress Style:
Eastern weddings are totally the opposite of western weddings and culture – the whole idea is to make sure that girl looks as traditional as possible. They are ready to spend 5 times more on the overall occasion. Now coming to the bridal dresses fashion 2014 in this aspect – there is nothing much that would be changed, as cultural factor is interpreted well by the designers. What most of the designers have been doing, have a look;
Styles:
Long dresses with loose pants or chooridars are on the ramp. You can see heavy embroideries and other work on the dresses, from top to bottom. The shirts are fully embellished, while the pant and duppatas feature lesser work. Also, wide leg trousers, straight shirts and heavy duppatas would be seen in late winters.
Colors:
There is no color restriction in bridal dresses when it comes to eastern culture; however, red and maroon remain the most popular ones. Also, girls prefer having a good contrast combination – many take three different tones and blend them well. While many prefer having two shades only; there are those when who like colorful pants, and one tone for duppata and shirt. Therefore, customization is fun when it comes to bridal dresses.
Shoes:
Golden and silver high heels, maybe designer wear that goes well with the dress would help. Fully embellished
shoes are the demand of the season
.
Jewelry:
Asian brides prefer wearing heavy jewelry – something that goes with the overall look. So, neckpiece along with long chain types would be around in 2014. Also, various forehead accessories have been brought by designers; they are getting attention of many. They look luxurious and appealing too. Big nose rings, lots of bangles and rings are also essential part of the bridal look.

In the end, overall look is complimented with heavy makeup – bold lips and bold eyes and sexy hair do's make the bride look absolutely stunning and breathtaking.

By now, you must be clear on the idea what you have to pick from the market; if your beautiful day is about to held in this year.

Published On: May 10, 2014

↑