Shopping Guides & Articles
7 Important Shopping Tips For The Plus Size Women
Gone are the days when fashion for women with large frames was not part of any serious female fashion talk. Today, with more plus size female models walking the runways and increasing number of Retailers entering the market of the plus sized woman fashion, the shopping opportunities for such women are expanding. According to Diversity report New York fashion week 2020, a record 68 plus size women models walked a total of 19 shows.
In this article I will uncover the 7 most important shopping tips for plus size women, which will help them find a perfect fit.
1. Buy a supportive bra:
When it comes to the bra, the plus size women need excellent support for an hourglass silhouette. According to women clothing designer Jodi Arnold, the first step for good fit is a great bra. She advises that all plus size women should select bras that has a central panel lying flat to the chest and you can
get 30% discount on Trusst Lingerie
. This will save them from adjusting cups all day long .Check a plus size bra for following features: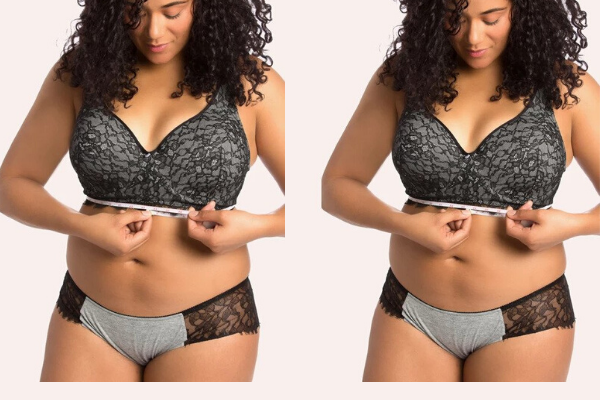 Choose a stretch material. It will not only move with you but will also feature padded straps that won't slip down.
The fabric should be moisture-wicking.
If you are looking for a sports bra, select one with convenient front-hook closures for excellent back support.
Find one with wide shoulder straps.
2. Balance is a must:
Plus size women need to strike a balance their hips and thighs finely with the rest of their body. This can easily be achieved by:
Wearing leg jeans and pants. They create a slimmer silhouette.
A-line skirt with a slightly cropped top will also do the same.
Another good option for a balanced look (and of course with slimmer silhouette also) is to shop flared pants with appropriate length, that hides your heel. By elongating your legs they create a leaner look.
The other aspect of a balanced dress is to understand the difference between squeezed up and a proper fitting outfit. Susan Moses, the stylist who has a two-decade plus career in styling and has also styled Britney Spears and Queen Latifah has following tip to know when a dress is actually tight.
"You shouldn't see lines of any undergarments through the dress—that's when you know it's too tight!"
3. Skinny jeans with right top:
Pairing a top with volume with a skinny jean that fit well on you and adding this with a shoe having pointed toe can work wonder in making you appear slimmer and leaner. This way your upper half will grab more attention and lower half will get a slimmer look.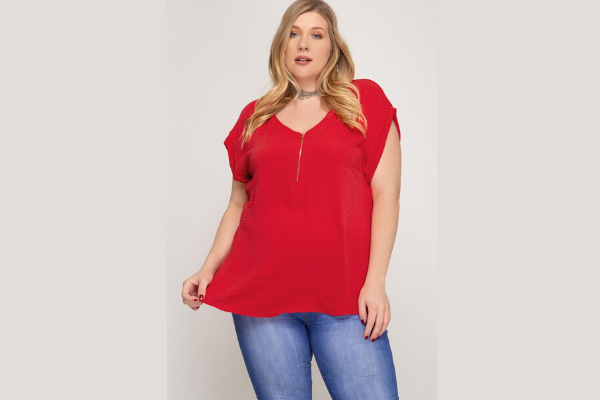 Skinny jeans are versatile clothes and are good for all sizes including plus size even you can
get free shipping discount on Caroline
. If you dress them up with heels or dress down with T-shirts they will create a slimmer silhouette. Additionally wear a printed scarf around your neck. This will help you get a relaxed look.
4. Shop printed stuff also but intelligently:
Who says that printed dresses are not meant for plus sizes? Don't fall tarp of this misconception. If you buy printed dresses by keeping certain points in mind, you will end up getting dresses that will actually enhance your look. Here are those points:
Buy prints with vertical stripes. The vertical stripes create an illusion of length and hence give you a slimmer look.
Mix up your printed dresses with solid colors.
Full busted women should wear print on the bottom.
Grab a printed romper also called "ShMaxi". This will prove to be a leg-lengthening silhouette for every plus size woman.
5. Don't let the shopping make a dent to your wallet:
Money saving? You heard it right! While shopping for plus size, there are opportunities galore to combine quality and savings like
Xcvi offering 20% off voucher code
. From special holiday shopping (Black Friday, Mother's day, Cyber Monday, etc.) to clearance and seasonal sales and from promo codes to enticing deals there are plenty of options available to plus size women for buying their wardrobe inventory at a fraction of retail prices of different clothing items.
6. Wear good undergarments:
The undergarments, if carefully selected can effectively hide the bulging belly. You can wear shapewear like panties for the large stomach. Choose a breathable and cozy underwear that is elasticated and fits the oversized women perfectly. A good undergarment can give the complete transformation to a large belly.
A flat tummy is what every woman wants. Instead of belting tummies (that in fact draws more attention to them) try lingerie that flatten your belly. You should go for dark colors especially black.
7. Stick to thin and flowy fabrics:
Plus size women should avoid using fabrics that add volume to their full framed bodies. Natural fiber is the best choice and cotton tops the list because of its breathability. The silk and rayon are the next best options. Polyester a synthetic fiber, is crease resistant and can be worn again and again without losing shape. Full figured women should select dresses made of these sturdier fabrics. The clingy fabrics like silk and satin will not be flattering your silhouette.
Plus Size Clothing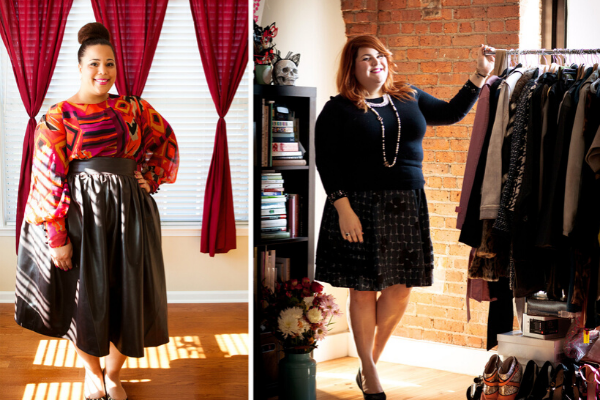 Plus size women clothing
is now an established niche market. From outerwear to dresses and pants to swimwear, a whole range of plus size apparels are now available in stores both on-line as well as in brick and mortar stores worldwide. Besides stores that offer plus size clothing along with below size 14 there are many exclusive stores solely for plus size women. I.e. Lane Bryant and Avenue, etc.
Plus Size Fashion
The fashion industry is now catering to all sizes. No matter what is your body shape (pear, apple, hourglass, etc.), you may easily obtain trendy and classy outfits and make a style statement like all other women. There are stores like Fashion to figure that specializes in runway trends at very affordable prices. Numerous plus size designer's clothes (Likes of Rachel Roy and Calvin Klein) are also available from scores of stores both online as well as through physical visit to outlets.
The fashion week runways are now coming up with innovative silhouettes, vibrant colors and unexpected styles focusing plus size women in mind.
Published On: November 26, 2019

↑