Shopping Guides & Articles
Plum Pretty Sugar: Best Place To Get Brides And Bridesmaid Outfits
The wedding is one of the grandest events in one's life; the emotional importance of this eve is beyond the measure. Although
it is already a very spectacular and unforgettable affair
even then people try to make it more memorable through lavish arrangements. One of the major expenses of the wedding is the bridal dress; the bride is the star of the show, therefore, her dress has to be perfect in every way. That is why
bridal dresses
can often take a huge chunk out of your
wedding budget
. It is almost impossible to find a bridal dress which is gorgeous yet affordable.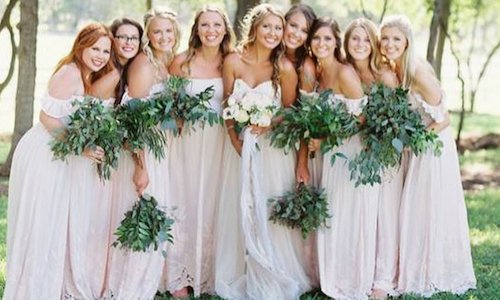 Along with the bride and groom, the guests also go through some expenses especially bridesmaids who have to arrange a bridal shower, buy a parting gift for the bride and get a bridesmaid dress. The bridesmaid dresses do not come cheap and are also very difficult to find. Through a lot of research, I finally stumbled on PLUM PRETTY SUGAR which is an online retail store for clothing and specializes in brides and bridesmaid dresses, these amazing dresses are not only beautiful but budget friendly also.
What Can We Shop at PLUM PRETTY SUGAR?
PLUM PRETTY SUGAR has an assortment of casual and formal dresses, rompers, tops, shorts, pants, clothing for girls, mom to be and plus size. They have a large variety of different types of dresses which includes midi, maxi, knee length, gowns for pregnant and plus size women too. You can also shop for robes at PLUM PRETTY SUGAR in the different collection such as knee length, solid with trim, print with trim, flutter, midi/ankle, mix, and match.




Other than this you can also shop for sleeping sets which includes shortie sets, boyfriend shirts, rompers, shorts, pant sets, dresses and tops and accessories such as eye masks.
Brides and Bridesmaid Dresses at PLUM PRETTY SUGAR
It is very overwhelming to shop for casual clothes for everyday wear. Now imagine it does for the most special day of your life when hundreds of guests' eye will be focused on you.
There are countless bridal boutiques
from where you can get your dream dress, however, they are quite expensive. At PLUM PRETTY SUGAR you can find dozens of bridal dresses as well as
bridesmaid dresses at an affordable cost
. You can shop for brides and bridesmaids dresses in:
dresses-maxi
dresses-midi
gowns
in colors such as white, ivory, blush, pink, peach, coral, champagne, taupe, mauve, thistle, blue, gray, green, sage, mint, golden and amber. You can also purchase other accessories such as curated sets, monogramming, sash, bags, and totes.
You can also browse their collections through:
Shop by fabric
hop by print
Size and Swatch Guide
Usually, the brides and bridesmaid dresses come with hidden costs which are the cost of trimmings and alterations but here on PLUM PRETTY SUGAR you will face no such problems as they have size guide with their every dress which will assist you in choosing your perfect fit and will save you the additional cost of alterations.
The fabric of the wedding dress is extremely significant as there are certain fabrics which are specified for specific seasons. The weather inappropriate fabric can cause you extreme discomfort and can ruin your day so it is important to check the fabric of the dress. PLUM PRETTY SUGAR facilitates its customers with fabric swatches through which you can see and feel the material of the dress and see if it would be the fabric which will best accommodate the wedding season.
Other Options at PLUM PRETTY SUGAR
PLUM PRETTY SUGAR has other options such as lookbooks and journals where you can check out different themes and designs of brides and bridesmaid dresses and sets. This will help you're to decide which dress or theme to go to. These books also contain a list of accessories to go with these particular dresses and looks.
You can also sign up to their guest book via email where you will update about latest trends, collections, inspirations, styling tips, and exclusive offers.
Flash Sales and Promotional Codes
At PLUM PRETTY SUGAR you can use promotional codes to
avail discount on your purchase
. You can get an exclusive 10% off promotional code from
ClothringRic.com
which you can apply during checkout. Although every item is low-cost at PLUM PRETTY SUGAR you can still save some more money by shopping at their clearance rack via flash sales. In flash sales section, some of their items are placed on up to 25% off for a limited time. You can also subscribe to PLUM PRETTY SUGAR for their exclusive offers and promotional codes which will make your shopping experience at PLUM PRETTY SUGAR much more affordable.
Gift Cards at PLUM PRETTY SUGAR
PLUM PRETTY SUGAR have their own gift cards which you can gift to your loved ones, especially who are about to get married soon.
In the gift card, you can select the amount up to $10 to $100 or customize an amount by yourself. The digital gift card can be sent through email.
Flexible Return and Exchange Policies
If you are not satisfied with your order or you have been delivered the wrong item you can report it to PLUM PRETTY SUGAR within the two days of delivery. The purchased items can be exchanged and returned within the fourteen days of purchase provided they must be enclosed in their original packing and must have their price tag attached to them. The item must also be unused, unwashed and undamaged otherwise it will not be eligible for exchange and return. The payment for the returned item is made through store credit, which is you can purchase another item from the store of the same amount. The products that are monogrammed or brought from the sale or through promotional codes cannot be exchanged or returned.
PLUM PRETTY SUGAR Shipping Policies
All the items are delivered with 2-3 days in the USA, the items are shipped through UPS, USPS, and FedEx. PLUM PRETTY SUGAR also ships internationally to all the countries through the delivery time depends upon the location of the customer.
The orders shipping is confirmed within the 24 hours of payment and the information and tracking number are emailed to the customer when the order is shipped.
Get in Touch With PLUM PRETTY SUGAR
If you have any complaints or queries you can contact PLUM PRETTY SUGAR customer support team through live chat, email or call them between 9am-5pm pacific time from Monday-Friday. You can also get in touch with them via
Facebook, Instagram, Twitter, and Pinterest
.
Published On: October 10, 2018

Latest Articles
Popular Articles
Featured Stores
Popular Discount
New Trending Discount
↑