Shopping Guides & Articles
Can The Clothes You Wear Impact Your Self-Confidence?
Would the
Met Gala
be as headline-worthy had celebrities worn the same old dresses and suits to it like at any other ceremony? It's the costume and theme of the event that makes it stand out, that makes people think of different stars in a different way. Quite the same way theater plays are incomplete without characters being presented through the
outfits
they wear.
While this shows that what you wear influences people's perception of you, did you know that your own
dressing sense also impacts your self-confidence
? In a report published in the Social Psychological and Personality Science journal, researchers conclude, "The formality of clothing might not only influence the way others perceive a person, and how people perceive themselves but
could influence decision
making in important ways through its influence on processing style."
Therefore, clothing doesn't just impact your confidence but can also make you smarter and improve your focus as well as mood. Looking at the effect that clothing has on you, you should always dress to impress, not only others but your own self too.
Dress for your body to feel and look confident
The first and worst mistake people make when picking a dress for themselves is that they buy the wrong size. If you wear an outfit that doesn't quite fit you because it's a smaller size, you're prone to look fatter as bulgy parts of your body may appear prominent. Apart from size, it's also essential to wear clothing styles that suit your body shape. At the end of the day, your aim should be to bring out the best in you by wearing clothing that is going to suit you and expose your curves. Once you wear a dress that looks good on you, you're sure to feel more confident as well as comfortable.
Wearing a perfect fit makes you not only appear but also feel confident from the inside. Notice how
businessmen
always wear fitted suits that make them stand upright and appear powerful? In fact, there's even a scientific term for the phenomenon that explains why we feel smarter, better, more confident when our outfit is spot-on. It's called '
enclothed cognition
' which means that the clothes you wear have an influence on your cognitive processes.
Wear what you prefer the most
Some of us like fringe details in our dresses, while others think those look like noodles. It's obvious that if you wear a dress that you dislike features of, you're going to keep fiddling with it. Did you know that the right clothes can also lower your stress and anxiety levels? This is why you should stick to the styles you prefer. If you prefer Athleisure looks, go for those. However, if you're more on the traditional side of the fashion scale, adhere to dresses. But keep in mind that whether you should go for casual wear or formal wear depends on where you are headed to as well. Wearing a suit to a friend's hangout plan may make you feel odd as you'll stand out from the crowd of casually dressed pals in jeans and tees.
Sometimes it can be troublesome to find pieces that suit your preference as well as body shape. And then when you finally do come across dresses that you like they are too costly to be affordable. In such circumstances, know that you can always choose to be budget-friendly by
using coupons codes
or shopping when a sale is running.
Choose colors that look good on you
Another study published in the Journal of Sport and Exercise Psychology suggests that the color of your outfit can also influence your performance and confidence. As per
color psychology
, the red color gives a boost to your energy, yellow ups self-esteem, and creativity, green promotes balance and peace whereas blue increases intellect and communication skills.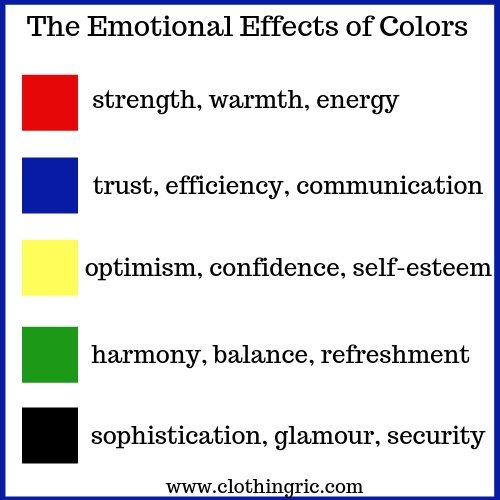 Apart from these guidelines, the color you go for should also be one that makes you look better so that you can feel more confident. People also tend to feel more confident when they wear a color that is trendy. The color of your dress does have an impact on how you behave too - this explains why black is worn on funerals rather than multicolored dresses.
Think about a time when you felt good in an outfit
Not sure how exactly clothing can rev up your confidence? Reminisce of a time when the dress you wore made you feel beautiful and how because of upped confidence, you behaved differently. We've all been there, moments, when we feel like a dress, has been made for us and this makes our overall performance better by taking anxiety down.
Try to do in-depth research on the clothes you should wear. Start by looking at
what clothes would be suitable
for the event, then move to which styles would complement your body shape. Your clothing does impact how you feel which is why doctors are made to wear lab coats which make them smarter, businessmen wear suits that sharpen their cognitive abilities and maintain a distance, and why a creative company's employees wear
colorful, funky clothes
.
Define your style
At the end of the day, your style defines how you feel about yourself. While fashion evolves, style remains the same. Create a style profile that is unique to you and makes sure your style makes you feel more confident about yourself. First impressions matter and the impression that an outfit leaves on you plays a key role in how you look.
Published On: May 15, 2019

↑