Shopping Guides & Articles
Why Kid's Halloween Costumes Are Getting Too Adult?
Halloween is all about trick or treating in costumes for our kids. This has been the tradition for many years and Halloween is as much important for kids as it is for the adults. Kids as well as adults don the costumes of their liking. However, the costumes for kids have been becoming inappropriate lately. This has many parents concerned that Halloween is not the same for kids anymore because of these costumes. In this article we discuss how Kid's Halloween Costumes are getting too adult:
Racy Costumes
Costumes on Halloween
can be
funny, scary, political, and even racy
as long as you are an adult making your own decisions. However, for kids the costumes are usually based on
cartoon characters, animals, birds, and superheroes. Lately
, many retailers have started including costumes that have violent or sexualized connotations. Children are very impressionable so as a parent you have to be careful about what you choose for your kid to wear on Halloween.
Many kids already know what they want and if they set their eyes on a costume that is inappropriate for them, it may be hard to convince them to get something else.
In 2017, according to Google's Search Data
, the most popular costume on Halloween was Wonder Woman.
Wonder Woman Costume
– Is it really meant for kids?
While the Wonder Woman character is heroic, some costumes of Wonder Woman for girls on the market were designed to be rather
sexy
. The costume should portray the message of power and strength and not body image. Another popular costume was the scary clown from the movie 'It' which may be too scary for a kid to wear.
Violent Costumes
Some costumes may even have weapons as part of the costume. Any parent would think twice about handing their kid even a toy gun. Even bigger kids who are about to become teenagers should not be exposed to such sensitive matters not until they are in high school and are able to understand the world around them a little better.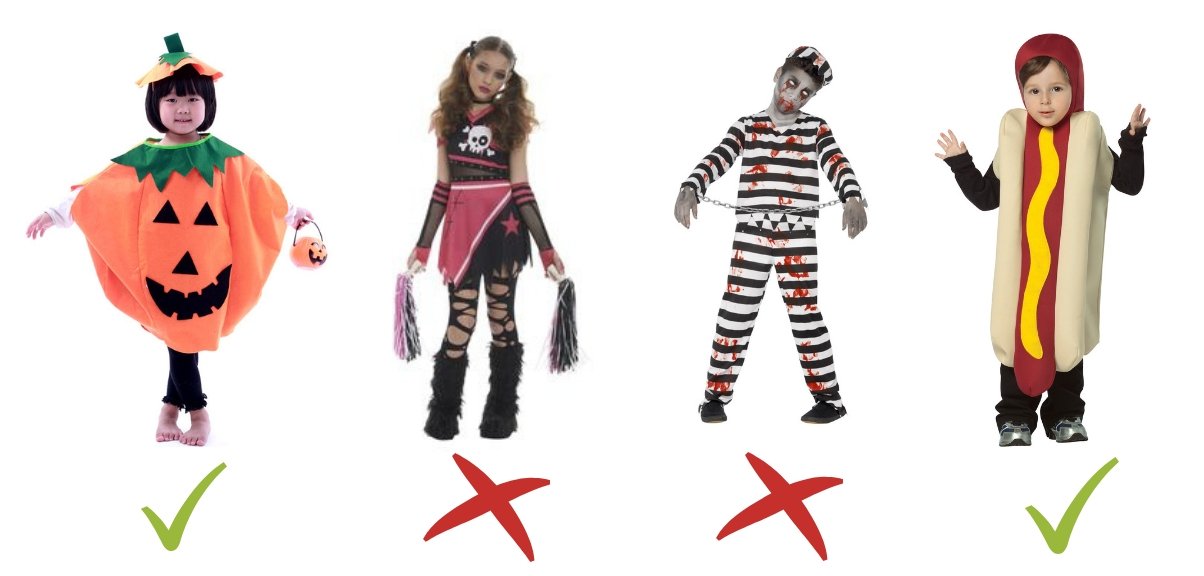 The Difference between a Kid's Costume and an Adult's Costume
A costume, especially in the context of Halloween, represents a character or period from history, art or popular culture. Over the years, people have gotten very creative with Halloween costumes. Some use it to be sarcastic or political while others just do things for a laugh. From a post-it note to grocery items, Halloween really is the time when people put on their creative caps.
Since costumes carry a meaning and message, it has to be age appropriate. For kids, Halloween is mostly about dressing up cute and getting some candy. That is exactly what Halloween should be like for a kid and that leaves us with costumes that are adorable, funny, and at most a little clever. We do not need kids in sarcastic costumes or little girls in
skimpy skirts
because it is Halloween.
This is the main difference between a kid's costume and an
adult's costume
. A kid's costume is just a fantasy while an adult's costume may carry a message. Plus, this is common sense that somethings are just not appropriate for kids.
No parent would like their kids to be exposed to curse words
. Just like that, they would not want their kids to wear inappropriate costumes on the eve of Halloween when they go trick or treating.
The Role of Retailers
This is a big problem on the part of retailers. They need to address this problem and get involved to ensure that the costumes for kids are age appropriate. They should properly vet the designs and nature of the costumes, especially those for kids. It is important to ensure that on the website the kids section for costumes are totally separate and free from any racy costumes.
Halloween is big business and retailers go above and beyond to sell their merchandise. According to
National Retail Federation, Americans spent $3.4 billion
on costumes during
Halloween in 2017
. That goes to show how lucrative this event really is. However, retailers need to have more ethical standards and ensure that just for the sake of money they do not put parents in a difficult position.
Parent's Responsibility

Parents need to be more careful now when buying their kid's costume. If a costume seems too violent or racy, do not buy it. If your kid insists on getting such a costume, sit them down and have a talk. Try to carefully convince them to get something else. Usually, kids have such requests because everybody else is doing it or perhaps they have seen it on the internet.
Many parents think that kids' costumes have to be all happy. That is not necessary and there can be other type of costumes too including villainous. If your child wants to dress up as the villain from their favorite cartoon movie, it is absolutely fine. As long as they do not appear too scary or have any artificial weapon in their hand, the costume is acceptable.

You can get creative yourself and come up with new and better ideas to convince your kid to wear another costume. Other than the costume you choose, you also need to protect your kid from exposure to indecent Halloween related costumes on the streets or on the TV.
Conclusion
There is a very fine line between kid's costume and adult's costume and that line should not be crossed. Kids are impressionable and can also be very stubborn about who or what they want to dress up as. As a parent, you have to tactfully make sure that your kid goes out
trick or treating wearing an age appropriate costume
. Plus, there are just so many adorable options for infants to kids. You can easily find the best costume for your kid through
Primary discount Codes.
Published On: October 04, 2018

Latest Articles
Popular Articles
Featured Stores
Popular Discount
New Trending Discount
↑