Shopping Guides & Articles
LookHUMAN The House of Swanky Tee-Shirts
Tee shirts have always been the benchmark of cool, they have been around the ages yet they never go out of style. Tee shirts make great casual outfits for both men and women, just put it on and voila you are ready to go! From
celebrities
to next door neighbor you can spot anyone in modish tee-shirt. Another perk of
Tee shirts
is you can wear them without much effort, you can either dress it up or dress it down pair it up with jeans, shorts, pajamas, trousers, sweatpants, leggings, jeans, skirts, bomber jackets and formal jackets it will give you much-refined look without doing much. From
kids
to an adult you can find Tee shirts for everyone not only that but they can be worn all around the year in each part of the world.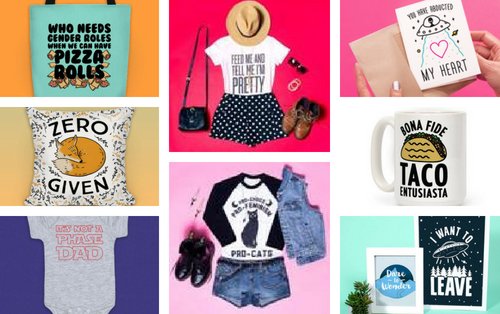 Over the years Tee shirts have been more of a style statement, it has been used as a medium to express the feelings and other personal views by printing slogans, symbols, and pictures on it. Let it be a
bachelorette party, graduation party, birthday party
, concerts or any
individual or public demonstration
you can see people wearing the same Tee shirts to support the cause. You can even get them customized for your event exclusively.
It does not matter if you are the more laid back type of person or outdoorsy you will find a variety of Tee shirts in everyone wardrobe, Tee shirts come in all shapes and sizes from crew necks to V-necks, full sleeves, short sleeves, graphic, plain, white, colored you name it. In summers Tee shirts are the most easygoing gear you can opt for, wear them to the beaches, casual parties, sleepovers, trips, hunting, BBQ's, low-key brunches or to the cinema they will never make you look out of place.
Personally, I have always been a fan of Tee shirts, they are light comfy, looks chic and they are inexpensive. Although Tee shirts are great clothing option you can get easily tired of same repetitive designs and colors so I began hunting for the affordable store which had trendy and hip Tee shirts and that is when I found LookHUMAN.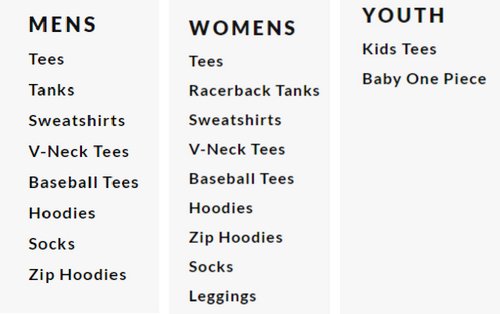 LookHUMAN is an online retail store and is the perfect place for the lovers of Tee shirts like me, they have tons of Tee shirts in different designs, colors and sizes and all at the very affordable range. LookHUMAN also has size chart along each clothing article so that you can purchase the right size in different styles. As they have an amazing range of Tee shirts which includes tees, racer backs tanks, sweatshirts, V-neck tees, tanks, baseball tees, hoodies, zip hoodies. For easy browsing of customer they have distributed their collection into many sections, which are as following;
In the section of collection you can shop for the following collections;
Along the Tee shirts, you can also get other clothing articles which are socks, leggings, kid's leggings and baby one piece. LookHUMAN also has an assortment of home accessories and you can get pillows, towels, mugs, posters, blankets and other accessories such as pins, jewelry, phone cases, greeting cards, and totes.
All these items can be bought by online transaction where you can use your credit and debit cards, although the prices at look human are already low-cost, still, they put out frequent sales and discount offers such as you can
avail 10% off by signing up at LookHUMAN
. At the checkout, you can enter valid promotional codes to avail discount on your order.
LookHUMAN also has
gift cards
available which range from
$10, $25, $50 and $100
, you can get the card of your choice and gift if you're loved ones on their special occasion. These gifts cards are only redeemable at LookHUMAN.
The delivery rates at LookHUMAN varies according to the customer location however they offer free shipping on the orders of $50 and above. All their orders are shipped through USPS and DHL and it may take 5-10 working days for orders to get delivered. After the payment, each customer is sent a confirmation email which contains the number of items bought, product details, bill, shipping charge and tracking link. You can click on the tracking link and it will provide you the details of the current location of your order.
Unfortunately, if you have received wrong or defective piece or if you have changed mind about your order then you can return it back at LookHUMAN. When returning items back keep in mind that they must not be used, washed or damaged by the customer, all items must be in their original packing along with their receipts, you can return these items within the 40 days of purchase otherwise you will not be eligible for a refund. Once the order is received back at look human they go through an inspection to make sure if the customer is eligible for a refund, then it takes 40 days to process the refund. Also, LookHUMAN has 100% money back guarantee they charge no restocking fee on the returned items, however, the customer has to pay for the return shipment cost.
If you have queries regarding their products, services or problems regarding your order you can contact LookHUMAN customer support team via call, mail or live chat from
Monday to Friday between 10am-9pm EST
. You can also get in touch with them on their social media accounts on
Facebook
,
Twitter, Pinterest, and Instagram
for products catalog and customer reviews as well.
Because of their high-quality voguish Tee shirts at easy prices and flexible policies, I really enjoyed shopping at LookHUMAN and it entirely transformed my wardrobe for summers, if you are looking for incredible Tee shirts on small price tags do checkout LookHUMAN. Do let me know in the comments which collection of Tee shirts you liked the most? Will you refer your friend for Tee shirts to look human? Because I have!
Published On: August 07, 2018

↑