Shopping Guides & Articles
Meghan Markle's Style Transformation
If you were to wake up one day and find that you were now a princess, would you continue rocking denim jeans with a crop-top? Or would you prefer to skip that outfit for an elegant lace dress? We bet you'd choose the latter! Even Cinderella opted for glass close-toed heels over her signature slippers when she was headed for Prince Charming's ball. Same goes for Meghan Markle. The former American actress has entirely shifted to suit royal protocol since she said yes to Prince Harry.
There was a time when the Duchess of Sussex would be seen in mini skirts and bodycon dresses. Now, she keeps her legs and shoulders more covered. She's left fancy dresses in her old closet and pinstripes, florals, and pastels have become her go-to options when it comes to clothing. No more gladiator shoes, no more low-cut necklines. Markle's strictly following in Kate Middleton's footsteps, keeping her look graceful and sophisticated.
Her style has evolved significantly
. Wondering how she gets up and makeup has changed? Here's a look at how Prince Harry's wife's style has transformed since she has become an integral part of the Royal Family.
From shorts and skirts to midi dresses and pants
You'd have noticed how the women of the
Royal family adhere to not exposing their legs
. Meghan Markle, who once used to prefer shorts and mini dresses, has now embraced this rule. After her engagement to Prince Harry, she has not been seen in attires that reveal too much skin. And now that she is his wife, the former Suits actress sticks to wearing dresses that reach below her knees, and pants that keep legs covered. While we love both the looks on this American lady, there's a stark difference between the two.
From leather jackets to trench coats
Markle used to be a lover of leather jackets. October last year, she was seen keeping her shoulders covered with a plum-colored Mackage leather jacket over a matching dress at the opening ceremony of the Invictus Games. This was her first public appearance with Prince Harry. This wasn't the only time the now Duchess was spotted in a jacket. She chose this style for several occasions. However, since she has exchanged vows with the Prince, she's not been yet seen in a leather jacket. In fact, very much like the Duchess of Cambridge, this duchess as well is often seen sporting trench coats.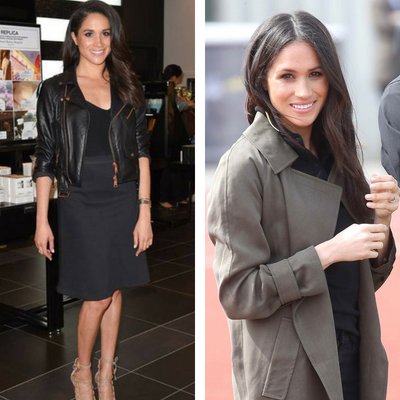 From straps and open toe-boxes to close-toed pumps
It's not just that Markle's preference has changed with regards to how she dresses.
Her shoe preferences have also altered
. The former Suits star used to be seen in a variety of shoe styles. From block heels and gladiator stilettos to pumps and more. But since she has become Prince Harry's wife, she has ditched all that for plain close-toed heels. The pumps she wears now are simple yet more expensive. One more thing that eagle-eyed fans have noticed about her footwear choices; she prefers to wear a size too big for her feet. Don't worry; fashion expert Harriet Davey confirms it just for the sake of comfort.
From no headgear to hats and fascinators
The loose waves hairstyle might have been a constant in Meghan Markle's fashion game, but headpieces certainly are new. According to Insider, Royal Protocol demands all the royal ladies to rock fancy hats, berets, and fascinators at all formal and official events. So, no wonder both the duchesses has been seen turning heads with their on-point headwear game. Markle, since she has joined the Royals, has been seen rocking all types of headpieces. These include fascinators, Christmas hats, berets, and even a tiara, of course.
From cutouts and low necklines to belts
Meghan Markle is now a different kind of glam. When she pursued her career as an actress, she used to be all about low necklines and cutouts. Things have changed since then and now she is all about flashing less flesh. One thing we've been noticing; she seems to be a fan of belts! Whether she is rocking a coat dress or a regular one, Markle seems to favor belts. For instance, her NONIE trench coat dress in a blush pink that she wore to Nelson Mandela's birth centenary exhibition in London had a belt. Similarly, the black ensemble by Emilia Wickstead that she wore at the Garden Party in Dublin also boasted a belt at the waist.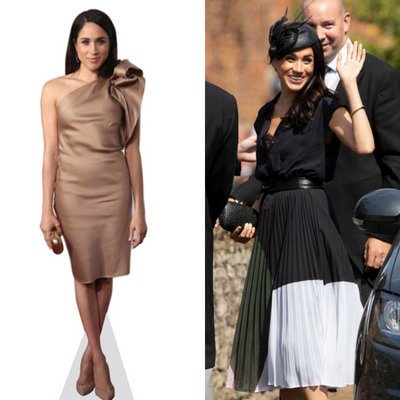 From glitz and glitter to plains and pinstripes
In her period as an actress, we saw her in
glittery, embellished dresses
. But becoming a royal has changed that. Now the Duchess of Sussex is not seen in such outfits anymore. Rather, she has embraced pastels. Not that we haven't seen her in olive green and bright yellow. But whatever she wears is plain. She has not been spotted in funky patterns after her wedding. Markle has rocked pinstripes and florals though, all the clothes timeless rather than being trendy. That's a huge difference when compared to her initial style.
From dark eyes and lips to nude makeup
Meghan's style has not only changed in the clothing and shoe department. In fact, we have also seen her makeup evolve. Though, admittedly, Markle's beauty looks don't seem to have changed as drastically. Because, even prior to her engagement with Prince Harry, she wasn't often seen experimenting with her look. She rocked light makeup just like she does now. However, after her entry into the Royal family, she has abandoned her kohl-rimmed eyes and has gone for even subtler lip shades.
To wrap up, the journey from being a real-life person to becoming a real-life princess has transformed Meghan Markle's style in more than a single way. Her overall look is full of grace and elegance now.
She's sticking to all the royal fashion rules. She's ditched her old signature style and welcomed new ways. Either way, she's an inspiration to many owing to her style whether it be pre-wedding or post-wedding.
Published On: September 05, 2018

↑