Shopping Guides & Articles
Plus Size Fashionistas who are blessing for Body Image Inspirations
Loving yourself, wasn't a thing for woman who didn't have size that used to be written in some unknown book of beauty standards. Women dreading to lose and envying those who could dress up didn't enjoy any attention, care or even acceptance from anywhere.
This changed. Most people perhaps started to notice when the change started to go viral with the brands and they started entertaining plus size women. Credit goes to strong women who decided to take hold of the situation and changed the fashion world forever.
You probably know some of them or most of them. Here is another refresh of who they are and why it is totally amazing to have them online.
Jay Miranda
Photo Credit: jaymiranda
Being a mother is probably what she loves about herself the most. Accepting her motherhood and embracing her plus size in incredible life that she has created for herself makes people follow her years after years. Besides she cherishes being a mother, her love for shoes has never gone missing. Her incredible collection shows off in every post that goes live on the blog of
Jay Miranda
. For people who follow her
social media feed
, they would confess that there is much more than fashion there, it's a whole life that she is making really beautiful for other people to see.
Her positive work for the body image has been acknowledged various times and last year in Huffington Post's article titled as
"Break the Rules"
. While she discussed her beginner challenges as a plus size girl, she also seemed thankful about how her life transformed. As HP quoted it:
"Hey, you grow up to be a happy and intelligent, woman, it turns out everyone is imperfect, and you end up marrying the most interesting man you'll ever meet. So relax, OK?"
Gabi Fresh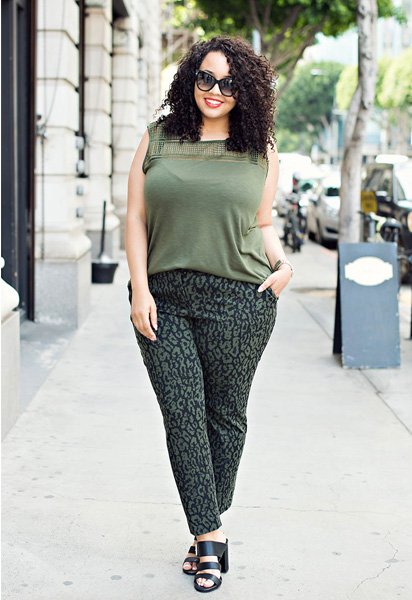 Photo Credit: gabifresh
About the very well-known Gabi Gregg of
Gabi Fresh blog
now, it is hard to believe that once she couldn't land herself a job. It's no sad story as Gabi comes from a very supportive family led by bi-racial and super confident parents. But Gabi did face her problems when her chubbiness and bi-racial self was not very well accepted but she dared to face it. It was because of unbeatable confidence induced in her by family that Gabi picked up on idea of blog quickly after her graduation in 2008. In most of her online interactions, she boldly admits that women in online communities were the first one to inspire her.
Once she did it, new ways opened up for her. The way to the admiration of fans and the way to entry in meaningful fashion advice panels like Create and Cultivate Summit where she is one of the advisors. Her work with the
swimsuit collection in 2015
is an important turn around in "Fat turns fabulous" chapters. The swimsuit designs for the fat-fab fans, perfectly explains why this fashion journalist doesn't appear with the new post everyday coz when she does, it's something worth noticing.
The number one Beyonce fan (as she claimed in an interview) and believer of quality over quantity uses her confidence and attitude in every look she carries. For closer connection with this body image celebrity, people can follow her on
Instagram
and
Twitter
where she is more active.
Thamarr
Photo Credit: musingsofacurvylady
Every single personality in Plus Size fashion community is there for the discovery of new definition of feminine style and beauty. Thamarr is one incredible progress to this challenge as she portrays street, office and everywhere everyday styles with a remarkable difference and confidence.
The recognition of her work comes from a huge number of followers and the beginning of this year also brought it for her from Lauren Conard. She was picked as Chic of the week and designer's site couldn't decide which of her designer wear looks can be tagged and featured as the best of all, so they featured multiple.
In process of teaching plus size women how they can make everything from ripped jeans to pattern look perfectThamarr shows her clear love for statement pieces. She has a gorgeous collection of ornaments if you haven't seen them already,
check her blog
.
Ragini Nag Rao
Photo Credit: tumblr
Or Curious Fancy is how a plus size style admirer would remember this personality. She was a part of community for a year before she picked on the idea of
blogging
which means that she was already on the right track. Once other bloggers like Miranda Jay and Gabi fresh inspired her show her fashion sense more, nothing stopped her from saying great ideas about plus size or as she likes to call it "fat fashion", in her mind.
Unlike many others, this fashion blogger doesn't emphasize on being cute more than sexy. According to her interview published online in High Voltage Blog, Calivintage solidified her love for cute.
Chante
Photo Credit: everythingcurvyandchic
They are all in for body image and so is Chante but what sets her apart is her tips from styling for head to toe. Enter
Chante's blog
to learn how recent fashion and styles may go affordable and how you can make your nails look all important.
Her taste in fashion is a boost for black woman who are big and like to dress up pretty. Comfy may seem like her thing when you notice her boots but edge is always there, you will be able to only find it if you are as fashion upgrade as this blogger.
Allie
Photo Credit: photobucket
Her easy on the eyes website may seem like a simple display of everyday clothes but Allie is much more than that. Besides a blogger, she also happens to be a reporter, model, host, correspondent and in all an active media person. Needless to say, her style is pretty following her is like a following an upbeat fashion personality who has beaten the standards to make her place in the mainstream.
Yes, she is not just one of the bloggers, in fact she has broken the rules and she has done it in style.
The plus size model cum blogger
has been featured and mentioned in various media channels like Huff Post, Dare Magazine, Style Blazer, About.com, Plus Model Mag, Glamour Magazine.
She is a writer herself too and her upcoming piece on fiction might be just the thing that plus size women need for esteem.
Callie Thrope
Photo Credit: bp
The totally sweet smile on her face wouldn't let you guess the first time about the rule breaking personality that she has when it comes to fashion. This smile may give you simple positive vibes which seem like everything for the day but the blog is much more.
Callie Thrope
in oversized dress shirt, in full prints and in crop tops and almost everywhere will make you feel "Yes" if you are plus size and if you are looking for fashion inspiration.
Among 72k
Instagram
followers, she has been sending out good vibes about style, art, love, travel, ice cream and various different ideas that are worth exploring.
Published On: October 22, 2015

↑