Shopping Guides & Articles
Fool Proof Dresses For Formal Events
The formal events were previously were known as "Dinner Parties" and were usually black-tie events, nowadays the formal dinners are little more flexible, but they are nonetheless formal and
have dress-codes of-course
, but you can deviate from stiff black collars and bow ties if not implied otherwise. For ladies however the choice has always been the formal knee-length black dress, it is chic yet classy but then again is it the only choice for formal sittings?
Often we are flummoxed at last minute party invitations, dressing up has always been hectic but dressing for fancy pants soiree double-up the anxiety. I have myself paced for hours and have gone through pre-party panic dozens of time, to avoid this lethargic situation I have rummaged the racks of countless malls and flipped through numerous magazines and binged on Mad Men.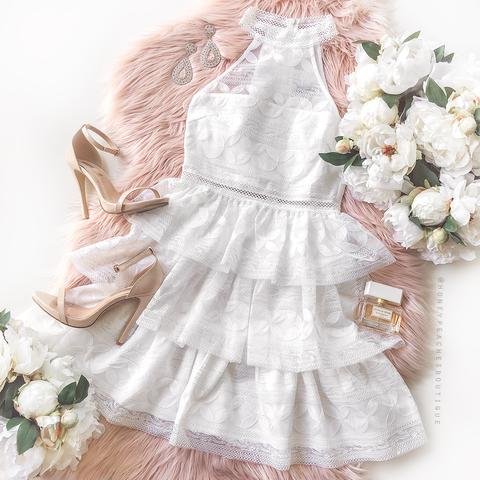 At-last I was able to grasp some classic formal-events appropriate ensembles that can be worn without being outdated. This collection has reduced my "getting-ready" time and I am more relaxed and comfortable at formal stuffy dinners. So if you want to get through formal diners without gnawing on your manicure, go get to the mall and get these fuss-free formal event apparels!
Knee-length Dresses
They are certain etiquette of getting ready for fancy dinners and number 1 rule is "no skin fest". I am not asking here to dress conservatively and barge in Hillary Clinton pleated pants but the
knee-length dresses
are really knock-out outfits. Your goal is here to look enticing and eye-catching yet modest. The sneak peak of thighs screams for wrong kind of attention that you do not want obviously. The body fitting skirt or skirt flared at knees gives your physique hour-glass silhouette, don't fret if your dress hemline is slightly above your knees or falls up to mid-thighs you can always wear them along tan or black leggings or pantyhose to give more immaculate and formal appearance without looking raunchy.
Midi-skirts
The pleated midi-skirts are time-less! They are very versatile too, you can wear them to
office
, quick brunch and formal events and I bet you will not get a single eye roll. With each event you can pair it with the different tops accordingly; cotton button-up shirts, silk or chiffon blouses, graphic tee-shirts or glittery tops. In formal dinners pair them up with sparkly or sequined blouse to make it more "standout". This quirkier outfit is comfortable and reliable, you can wear from silk to chiffon pleated skirts in variety of colors plus twin with blazers and you will instantly get this voguish yet formal look within seconds.
Jumpsuits
One of the most flexible fashion pieces one can ever acquire. The jumpsuits are comfy yet editorial as it gives very edgy look. The solid colored jump suits can look very plain and simple for fancy pants event but pair them up the intricate
sparkly jewelry
and a touch of makeup voila! It seem as you have been plucked out straight out of red carpet. The belt at waist; shapes the body contours and camouflage the wobbly bits. The off duty style dress is often sleeve-less and to give it orderly appearance it can be paired up with blazers and high heels which make eyes go up and down instead of side by side. It is great outfit which can be utilized other than formal dinner parties and will never raise single eyes at any event.
Heels
The pointy heels instantly add zing and panache to any outfit, whether it is formal or non-formal. The sky-high heels lengthen your physique and make your curves more prominent, however they must not exceed more than 4 inch especially if you are not petite, you don't want to trip in front of these entire guest you were trying to make good impression on. The open-toe platform looks beautiful on evening gowns and kitten heels always struck the perfect note on whichever dress you wear them on. If you are not fan of heels then you can opt for ballerina pumps and flats, go for any other options but shun the grotesque flip flop style sandals on evening ensembles as they take away the whole impression of formal appearance and you end up looking like fashion disaster.
Evening gowns
This ethereal dreamy dress is the most opted choice and it never ends in disappointment, if you have to attend four-course dinner or charities gala then these floor-skimming dresses are absolute charm. However they must be sleek and flowy, the A-line dresses with halter top and sweetheart necklines, sleeve-less or with sleeves are immaculate and uncluttered. The fluffy ball gowns with plunging necklines can be spotted miles off as fashion victims.
Honey Peaches
has huge variety of chiffon and silk dresses in solid colors and they are the most appropriate formal dresses; they will look incredible with or without jewelry with minimal makeup.
These few fashion statements are life changing. They have saved me from pre-party panic several times and with minimal effort I have managed to look presentable in these soiree dinners plus garnered compliment or two. I toss and turn and combine them with different accessories like
necklace, earrings, hand clutch and sandals
to prevent them from looking boring and repetitive, needless to say it has saved me from numerous shopping trips and I ended up saving my hard earned buck too. Try on different colors and shaped in these articles and select which suits you best and is most comfortable for you.
Another tip is not wear new heels to high profiles events first without wearing them anywhere before. The new heels get time to mold to the contours of your feet and are less-prone to slippage and blisters.
Plan your outfit at-least a week before the actual event date, so you don't have to go through last minute catastrophe which put damper on the entire evening. Experiment with different articles and you will be surprised with the results, do tell us which article you like the best and why?
Published On: July 04, 2018

↑