Shopping Guides & Articles
Discard 12 Fashion Rules Right Away for Better—Cheers to Them
Just like how wearing white after a Labor Day is now a thing, fashion rules are changing with every passing day. Whether it's about petite or plus-size fashion rules or people-made rules to stay fashionista, they all are as old as dinosaurs, so it's better to ditch infamous fashion Do's and Don'ts.
It's not 1874; so avoid the old fashion myths about what you can wear and what you can't. In fact, now, circumstances have been changed and people are more open about fashion likes and dislikes of peep that have to carry it. We do what we want.
For 12 fashion rules that are begging to be broken immediately, scroll down, it's fun and fabulous!!
Hemlines Shall Fall When Your Age Rises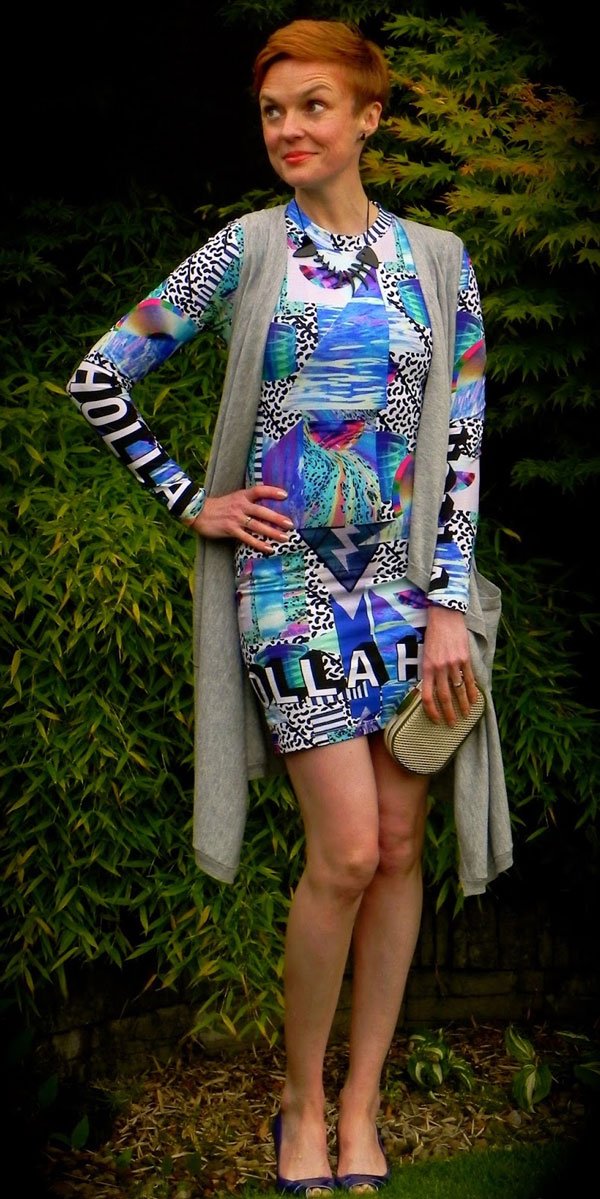 photo credit: fakefabulous.com
Any women no matter what her age is, if she thinks that her legs are one of her favorite features, then embracing them isn't a bad idea. Slip-on whichever hemline flatters your shape!
Generally, so-called-fashionable types say that stylish women above 40s should care about three inches above the knee because it's the thinnest part of the upper leg to show off. But, leave that fashion-thinking behind, know your shape, get the skirt length that flatters your body, and there you are a girl! Wear it with confidence and prove this fashion rule wrong. And, you can also go having dresses and skirts that have lower sheer sections, in this way you can do both: show off your legs while maintaining a bit of modesty.
Sequence are for the Nights
photo credit: theonlinestylist.co.uk
Really?? Then break this rule right away! A piece having sequins isn't just for the party animals, which go clubbing t night or partying all night long. If you are smart enough to mix and match sequin piece with a bottom or top that compliment it, so believe, people will start following you. Rather telling you that it should be worn at night. Get bolder and add a touch of bling to your day look, get over those qualms right now.
Sneakers Should Only be Worn to GYM
photo credit: clothingric.com
Comfy is the new sexy thing! It's the best thing you can pick when can't walk like a pro in heels and will still look cool with dresses, skirts, shorts, and almost with anything you are wearing. Oh, and wearing them you can run too! Apart from a joke, sneakers are trending all over the world and especially in spring and summers they are must-haves for any fashionable wardrobe. Sneakers are also celebrity certified footwear, celebs like Kristen Stewart, Emma Stone, Gigi Hadid, and others never shy rocking in their sneakers.
Petite Girls Should Avoid Cropped Jeans
photo credit: stylishpetite.com
It's a good news for all the short girls, you can wear cropped jeans and won't look tiny at all (mind blown, right?—but it's the truth!). It's all about how you dress-up from head to toe. Simply pick any of the cropped tops and wear it with these ankle-high pants or jeans and you will be ready to go out in style and will amaze people that how a petite can still look tall when she is in cropped jeans.
Flats Should be Your Friend when you Cross the 40s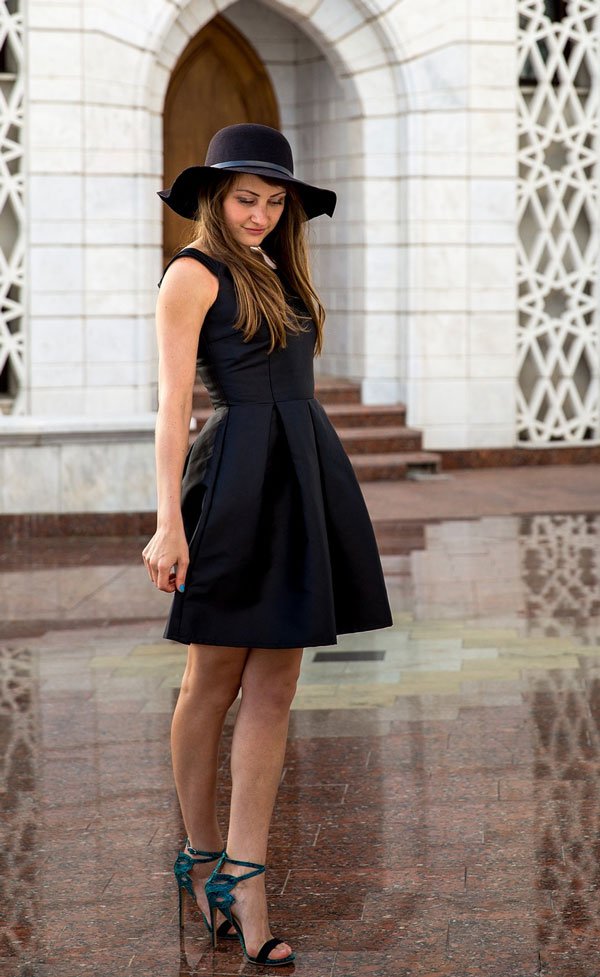 All the ladies out there who love wearing timeless heels, a milestone birthday doesn't mean that you have to give up on them. Be sure that you manage walking in heels that's all you need to be in one and never change your shoe game just because of an arbitrary date on the calendar. And, the foremost element of aging with grace is having knowledge about what you're comfortable wearing. However, if in flats you feel best, then stay true to your choice and ditch the torture of heels.
Never Wear Ripped Jeans on the First Date
photo credit: media.glamour.com
We all say that be yourself, stay comfortable, be confident, stay cool, have a relaxed mood, and much more when some of our close people going on their first date. But, here, we have one question: Do they really need to feel fitted from all sides in a bodycon or any other dress which never ever belong to their personal styling? The answer is BIG NO! So, break the rule and smile. If your personal styling-mantra goes around ripped skinnies or boyfriend-cuts, and it's almost a closet staple for It-Girls everywhere now, then go for it!
When you are dressing up for a date night in ripped jeans, so give your appearance a high dose of a good-looking blazer and heels, and not-to-forget: add streamlined accessories for a dressier look. These all style-updating-pieces will work as a perfect counterpart to your most casual bottoms.
Menswear Only Belong to Men
When you last worn men clothing item?? Never?? Try it now and believe it won't make you look frumpy if you know how to upgrade your styling game while wearing men's clothing. Not always, but every once in a while raiding your boyfriends closet and borrowing his pieces will make you look more of a trendy rather than rookie. Believe! This trick of grabbing items from your man's closet will give a style-refreshment. So, stay free and get ready to look edgy in your guy's clothing.
Cut Your Hair shorter As You Age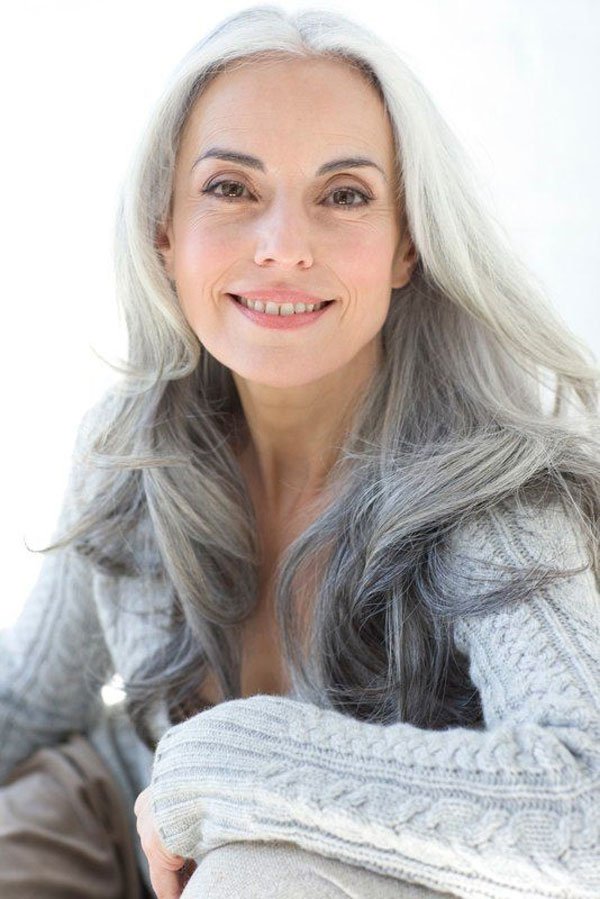 photo credit: pinimg.com
We all have been hearing this for a long time, but you know what?? The truth is: the severity of a short and blunt hairstyle can make you look more aged then you actually are. So, it's best to consider face-flattering longer layers that give the feel of softness and versatility and the key of longer layers is to keep your locks healthy and shiny for movement. Another youthful tip is: Have longer bangs, they can detract from forehead creases.
Don't Wear Red Lipstick by Day
Why not to wear red lipstick when it can wake up your entire face and light up your smile! Perhaps, this is the most needed thing which can turn your sleepy-morning-face into a refreshing one. And the refreshing feel getting from red lip color also means: it's the most wanted ingredient to have when you are getting ready for office on Monday morning. Even reds can help your teeth look whiter and who doesn't want that? Yeah, everyone!
Many times we also hear that don't red lipstick or black eyeliner in day-time. And, most of the people think that they both colors shouldn't be used by day, but the truth is: You just can't wear both at once that it! Arguably, red lipstick is a wake-up for your face and it's a brilliant way to distract every glance from your eyes if you didn't have good night's sleep. What you should make sure is: the red lip color doesn't look like it's been left on from the night before. And while applying the red-hot-shade, keep the rest of your makeup minimal. Otherwise, it will give an impact that you are dressed for an evening out. Similarly, if you like wearing defined eyeliner, it's better to keep your lipstick and other eye makeup more natural by day.
Classics Have to Cost a fortune
A huge number of women can't or don't prefer dropping a ton of cash on clothes with every passing season. Many time, ladies don't even find it great to invest too much on staples that have been told and mentioned that will always be in style, no matter what season and trend says. This is the only reason why off-price retailers such as Boutique 1, FarFetch, Marshalls, and Net-a-porter are so great for scoring real designer pieces at a really affordable price. However, some of the renowned stores like Zara, outfitters, and Uniqlo are revamping their price-game and quality, offering an array of timelessly super stylish pieces such as leather Chelsea boots, wool overcoats, silk blouses, and wool and cashmere sweaters at wallet-friendly prices.
Heels are for Shot Girls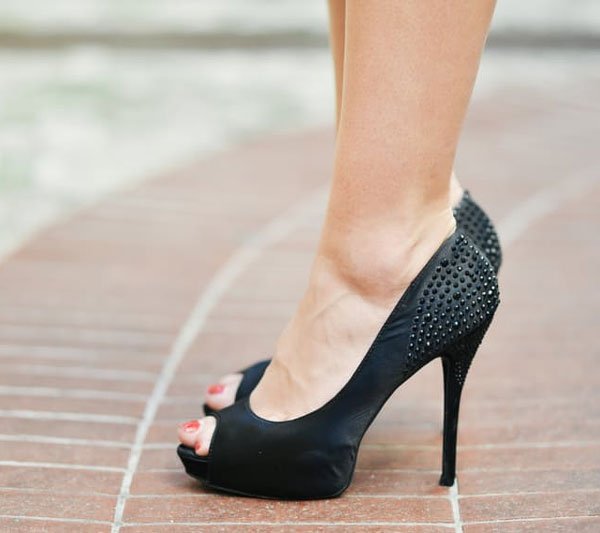 We don't agree and you shouldn't too. This mandate isn't only foolish, but a bit sexist, too. Stemming from a big bunch of old-fashioned philosophy including plentiful height isn't feminine, and a woman shouldn't draw extra attention to herself. But who are they to decide it, until or unless a tall woman doesn't want that? If you are tall and love going out in heels than be the heel-girl as you can't be forced not to wear heels. On-ramp and in real life, we all have seen plenty of women who are around six feet tall and still know the art of looking sexilicious in three-inch heels with grace (and we can't help getting jealous).
Wear Just One Bold Color At a Time
photo credit: pinimg.com
If you have really learned anything from the recent color-blocking styling that was on-ramp or brilliantly done by lots of fashionable chics, you can do it too. Moreover, if you look closely so will find out that a bold saturated hue can look even better when smartly paired with another bold saturated hue. Suppose you are wearing an emerald green silk too, so be a super-fashion-girl and don't get afraid of wearing those fuchsia suede heels or slipping on that sunny yellow lclutch—you'll look super-modern and striking, believe it and try it.
Dress can Never be Worn with Jeans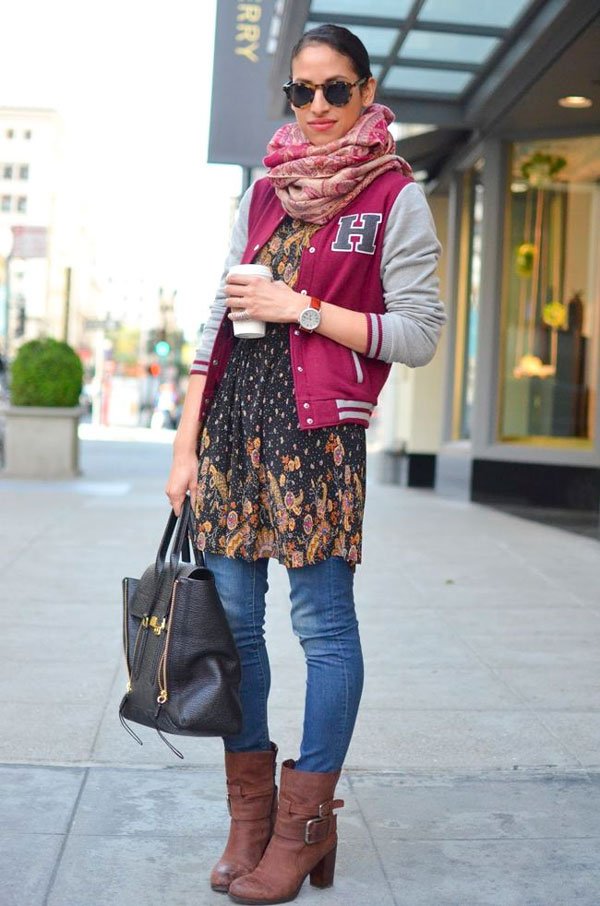 photo credit: pinimg.com
While you might not wear a gown over a pair of trousers, there's something very modern about pairing a swingy mini-dress with skinny jeans, or a flowing chiffon midi dress with leather leggings, a look we've been seeing on runways and on street style stars lately.
Always Match Your Bag, Shoes, and Belt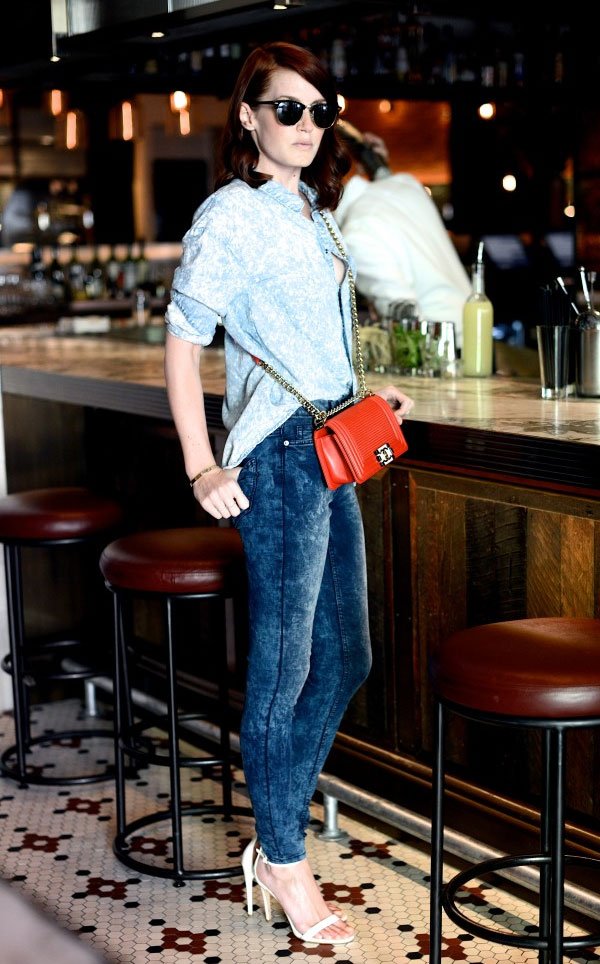 photo credit: lookastic.com
This trend might be working in the days when your beautiful grandma used to dress-up, but it's a must-to-avoid-rule in today's time, date, and age. Interestingly, if you keep matching all your shoes, accessories and dress perfectly at the same time so it can make you look dated, whereas mixing and matching things up in a great manner can give you a fresh and modern look, it also adds interest to any of your outfits.
Don't procrastinate breaking each one of these rules and adopt the habits of the real fashionista. If you think that we have missed something that has never been written about anywhere, so do mention that baseless-fashion-rule in the comment section below.
Published On: April 25, 2017

Latest Articles
Popular Articles
↑